On this day in 1520, painter and architect of the High Renaissance, Raphael died in Rome, perhaps on his 37th birthday.  Born Raffaello Sanzio da Urbino either on 28 March or 6 April 1483 in the small Central Italian city of Urbino in the Marche region.  Raphael is celebrated for the perfection and grace of his paintings and drawings.  Together with Michelangelo and Leonardo da Vinci, he forms the traditional trinity of great masters of that period.  Raphael never married, but in 1514 became engaged to Maria Bibbiena, Cardinal Medici Bibbiena's niece.  He is said to have had many affairs, but a permanent fixture in his life in Rome was "La Fornarina", Margherita Luti, the daughter of a baker (fornaro) named Francesco Luti from Siena who lived at Via del Governo Vecchio.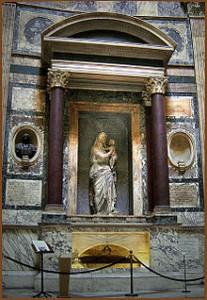 The Final Footprint – Raphael is entombed in a marble sarcophagus in the Pantheon in Rome.  The inscription is an elegiac distich written by Pietro Bembo,: "Ille hic est Raffael, timuit quo sospite vinci, rerum magna parens et moriente mori." Meaning: "Here lies Raphael, by whom the mother of all things (Nature) feared to be overcome while he was living, and while he was dying, herself to die."  The Pantheon was commissioned by Marcus Agrippa as a temple to all the gods of Ancient Rome, and was rebuilt by Emperor Hadrian in about 126 AD.  It has been in continuous use throughout its history, and since the 7th century, the Pantheon has been used as a Roman Catholic church dedicated to "St. Mary and the Martyrs" but informally known as "Santa Maria Rotonda."
Gallery
The Ansidei Altarpiece, ca. 1505, beginning to move on from Perugino
The Madonna of the Meadow, ca. 1506, using Leonardo's pyramidal composition for subjects of the Holy Family.

Saint Catherine of Alexandria, 1507, borrows from the pose of Leonardo's Leda

Deposition of Christ, 1507, drawing from Roman sarcophagi.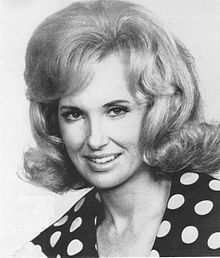 On this day in 1998, singer and songwriter, Country music icon, Tammy Wynette died from a heart attack at her home in Nashville at the age of 55.  Born Virginia Wynette Pugh near Iuka, Mississippi on 5 May 1942.  One of country music's best-known artists, Wynette was called the "First Lady of Country Music".  Her best-known song was, "Stand by Your Man".  Many of her hits dealt with classic themes of loneliness, divorce, and the difficulties of man-woman relationships.  During the late 1960s and early 1970s, Wynette charted 23 No. 1 songs.  Wynette married five times; Euple Byrd (married April 1960– divorced 1966); Don Chapel, born Lloyd Franklin Amburgey (m. 1967 – annulled 1968); George Jones (m. February 16, 1969 – d. March 21, 1975); Michael Tomlin (m. July 18, 1976 – a. September 1976) 44 days; and singer/songwriter George Richey (m. July 6, 1978 – her death April 6, 1998),  Wynette's marriage to country music singer George Jones resulted in a sequence of albums and singles that hit the charts throughout the 1970s and early eighties.  The Final Footprint – A public memorial service was held at Nashville's historic Ryman Auditorium on 9 April 1998.  A private grave-side service had been held earlier with a crypt entombment at Nashville's Woodlawn Memorial Park Cemetery.  Other notable final footprints at Woodlawn include; Eddy Arnold, Little Jimmy Dickens, George Jones, Johnny Paycheck, Webb Pierce, Jerry Reed, Marty Robbins, Dan Seals, Red Sovine, and Porter Wagoner.
Merle Haggard

Haggard in 1971

 

 

 

 
On this day in 2016, singer, songwriter, guitarist, and fiddler, the Hag, Merle Haggard died at his ranch near Palo Cedro, California from pneumonia at the age of 79. Born Merle Ronald Haggard on April 6, 1937 in Oildale, California. Along with Buck Owens, Haggard and his band the Strangers helped create the Bakersfield sound, which is characterized by the twang of Fender Telecaster and the unique mix with the traditional country steel guitar sound, new vocal harmony styles in which the words are minimal, and a rough edge not heard on the more polished Nashville sound recordings of the same era.
Between the 1960s and the 1980s, he had 38 number-one hits on the US country charts, several of which also made the Billboard all-genre singles chart. Haggard continued to release successful albums into the 2000s.
Haggard's last recording, a song called "Kern River Blues," described his departure from Bakersfield in the late 1970s and his displeasure with politicians. The song was recorded February 9, 2016, and features his son Ben on guitar. 
Haggard was married five times, first to Leona Hobbs from 1956-64. Shortly after divorcing Hobbs, in 1965, he married singer Bonnie Owens. Haggard and Owens divorced in 1978, but remained close friends as Owens continued as his backing vocalist until her death in 2006. In 1978, Haggard married Leona Williams. In 1983, they divorced. In 1985 Haggard married Debbie Parret; they divorced in 1991.
The Final Footprint
Haggard was buried in a private funeral at his ranch on April 9, 2016; longtime friend Marty Stuart officiated. Haggard hoped the world would remember him as "the greatest jazz guitar player in the world that loved to play country."
Have you planned yours yet?
Follow TFF on twitter @RIPTFF