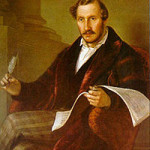 On this day in 1848, composer Gaetano Donizetti died in the house of a noble family, the Scotti, in Bergamo, Lombardy, Italy at the age of 49.  Born Domenico Gaetano Maria Donizetti in Bergamo's Borgo Canale quarter located just outside the city walls on 29 November 1797.  Altogether Donizetti wrote about 70 operas.  An offer in 1822 from Domenico Barbaja, the impresario of the Teatro San Carlo in Naples, which followed the composer's ninth opera, led to his move to that city and the composition of 28 operas which were given their premieres at that house or in one of the city's smaller houses including the Teatro Nuovo or the Teatro del Fondo.  This continued until the production of Caterina Cornaro in January 1844.  In all, Naples presented 51 of Donizetti's operas.  During this period, success came primarily with the comic operas, the serious ones failing to attract significant audiences.  However, the situation changed with the appearance in 1830 of the serious opera, Anna Bolena which was the first to make a major impact on the Italian and international opera scene.  After 1830, his best-known works included comedies such as L'elisir d'amore (1832) and Don Pasquale (1843) and historical dramas such as Lucia di Lammermoor (the first to be written by librettist Salvadore Cammarano) in 1835, as well as Roberto Devereux in 1837.  Up to that point, all of his operas had been written to Italian librettos.  After moving to Paris in 1838, Donizetti set his operas to French texts; these include La favorite and La fille du régiment and were first performed in that city from 1840 onward.  It appears that much of the attraction of moving to Paris was not just for larger fees and prestige, but his chafing against the censorial limitations which existed in Italy, thus giving him a much greater freedom to choose subject matter.  Along with Gioachino Rossini and Vincenzo Bellini, he was a leading composer of bel canto opera during the first fifty years of the Nineteenth Century.  Donizetti married Virginia Vasselli.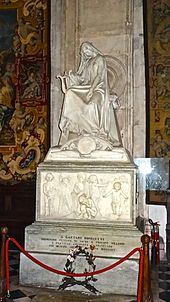 The Final Footprint – Donizetti was entombed in the cemetery of Valtesse but in the late 19th century his body was transferred to Bergamo's Basilica of Santa Maria Maggiore.  His tomb is located to the left of the entrance, past the sepulchre of Cardinal Guglielmo Longhi, on the rear wall near the tomb of his master Simone Mayr (1852).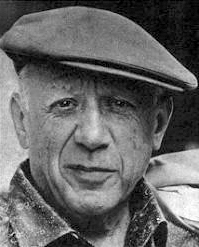 On this day in 1973, painter, draughtsman, and sculptor, Pablo Picasso died at his home in Mougins, France at the age of 91.  Born on 25 October 1881 in the city of Málaga in the Andalusian region of Spain and baptized Pablo Diego José Francisco de Paula Juan Nepomuceno María de los Remedios Cipriano de la Santísima Trinidad Ruiz y Picasso.  A prolific artist, he is perhaps best known as a pioneer, along with Georges Braque, of the avant-garde art movement Cubism which revolutionized European painting and sculpture.  Among his most famous works are the proto-Cubist Les Demoiselles d'Avignon (1907)
and Guernica (1937), a portrayal of the German bombing of Guernica during the Spanish Civil War.  His revolutionary artistic accomplishments in a variety of styles that he helped develop and worked in brought him universal renown making him one of the best-known figures in 20th century art.  By 1905 Picasso became a favorite of the American art collectors Leo and Gertrude Stein and through her he met Henri Matisse, who would become a lifelong friend and rival.  Picasso married twice; Olga Khokhlova (1918-1955 her death) and Jacqueline Roque (1961-1973 his death).  Throughout his life Picasso maintained a number of mistresses and muses in addition to his wife or primary partner, including; Fernande Olivier who appears in many of his Rose period paintings; Marcelle Humbert, whom he called Eva Gouel and to whom he included declarations of his love in many of his Cubist works; Marie-Thérèse Walter, the model for his Le Rêve (The Dream) (1932); Dora Maar, the model for Dora Maar au Chat (1941) and Weeping Woman; Françoise Gilot; Geneviève Laporte.  Picasso said; "Art is a lie that makes us realize the truth."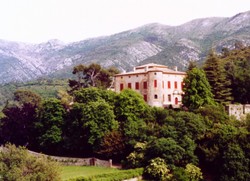 The Final Footprint – Picasso is interred at the Chateau of Vauvenargues near Aix-en-Provence, a property he had acquired in 1958 and occupied with Jacqueline.  His grave is decorated with his own sculpture "Woman with the Vase" (1933), which was shown during the World exhibition of 1937 in Paris.
Have you planned yours yet?
Follow TFF on twitter @RIPTFF