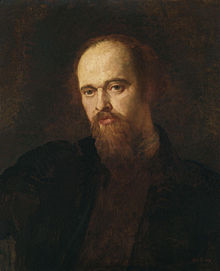 On this day in 1882, English poet, illustrator, painter and translator Dante Gabriel Rossetti died on Easter Sunday at the country house of a friend in Birchington-on-Sea, England, of Brights Disease at the age of 53.  Born Gabriel Charles Dante Rossetti on 12 May 1828 in London.  He founded the Pre-Raphaelite Brotherhood in 1848 with William Holman Hunt and John Everett Millais, and was later to be the main inspiration for a second generation of artists and writers influenced by the movement, most notably William Morris and Edward Burne-Jones.  His work also influenced the European Symbolists and was a major precursor of the Aesthetic movement.
Rossetti's art was characterised by its sensuality and its medieval revivalism.  His early poetry was influenced by John Keats.  His later poetry was characterised by the complex interlinking of thought and feeling, especially in his sonnet sequence The House of Life. Poetry and image are closely entwined in Rossetti's work; he frequently wrote sonnets to accompany his pictures, spanning from The Girlhood of Mary Virgin (1849) and Astarte Syriaca (1877), while also creating art to illustrate poems such as Goblin Market by the celebrated poet Christina Rossetti, his sister.  Rossetti's personal life was closely linked to his work, especially his relationships with his models and muses Elizabeth Siddal, Fanny Cornforth, and Jane Morris.  Rossetti married Siddal on Wednesday 23 May 1860 at St Clement's Church in the seaside town of Hastings.  She died of a laudanum overdose on 11 February 1862, and Rossetti buried many of his poems with her.  Later, his friends persuaded him to exhume the poetry, which he published in 1870.  They were sensual and erotic, and caused a scandal.  The Final Footprint – Rossetti is interred in the churchyard of All Saints in Birchington-on-Sea, under a tombstone designed by fellow artist, Ford Madox Brown.
Gallery
The Tune of the Seven Towers (1857), watercolour, Tate Britain

Beata Beatrix (1864–1870), Tate Britain (model: Elizabeth Siddal)

Jane Morris (The Blue Silk Dress) (1868), oil on canvas, Kelmscott Manor

Pia de' Tolomei (1868–1880), Spencer Museum of Art, University of Kansas, Lawrence (model: Jane Morris)

Proserpine (1874) (model: Jane Morris)

A Vision of Fiammetta (1878), one of Rossetti's last paintings, now in the collection of Andrew Lloyd Webber (model: Marie Spartali Stillman)

La Belle Dame sans Merci (1848), pen and sepia with some pencil

The Maids of Elphen-Mere, Rossetti's first published woodcut illustration (1855)

Sir Tristram and la Belle Ysoude drink the potion, stained glass panel by Morris, Marshall, Faulkner & Co., design by Rossetti (1862–63)

On this day in 2001, Pittsburgh

Pirate, 7-time all-star, 2-time World Series Champion, baseball Hall of Famer, Pops, Willie Stargell died of complications related to a stroke in Wilmington, North Carolina at the age of 61.  Born Wilver Dornel Stargell on 6 March 1940 in Earlsboro, Oklahoma.  Known for his towering home runs.  Only four home runs have ever been hit out of Dodger Stadium; two were by Stargell.  Dodger starting pitcher Don Sutton said of Stargell, "I never saw anything like it. He doesn't just hit pitchers, he takes away their dignity."  The Pirates won the World Series with Stargell in 1971 and 1979, both times defeating the Baltimore Orioles.  The Pirates '79 team adopted the Sister Sledge hit song "We Are Family" as the team anthem.  Stargell earned the NLCS and World Series MVP awards and was named the co-MVP of the 1979 season (along with St. Louis' Keith Hernandez).  Stargell is the only player to have won all three trophies in a single year.  I remember the '79 World Series well.  That Pirates team is one of my favorite teams and Stargell is one of my favorite players.  The Pirates retired his number 8 in 1982.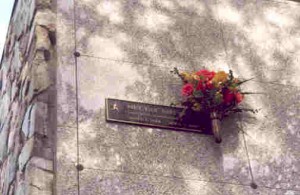 The Final Footprint – Stargell is entombed in a garden mausoleum in Oleander Memorial Gardens in Wilmington.  The Willie Stargell statue, a 12-foot bronze statue, at PNC Park in Pittsburgh was unveiled in April 2001.
Have you planned yours yet?
Follow TFF on twitter @RIPTFF