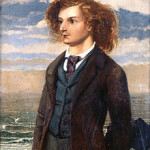 On this day in 1909, English poet, playwright, novelist, and critic Algernon Charles Swinburne died at The Pines, 11 Putney Hill, Putney, London at the age of 72.  Born at 7 Chester Street, Grosvenor Place, London, on 5 April 1837.  He devised the poetic form called the roundel, a variation of the French Rondeau form.  In addition, he wrote several novels, and contributed to the famous Eleventh Edition of the Encyclopædia Britannica.  He was nominated for the Nobel Prize in Literature in every year from 1903 to 1907 and again in 1909.  Author H. P. Lovecraft considered that Swinburne was "the only real poet in either England or America after the death of Mr. Edgar Allan Poe."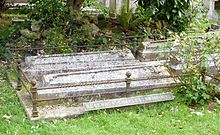 The Final Footprint – Swinburne was buried at St. Boniface Church, Bonchurch on the Isle of Wight.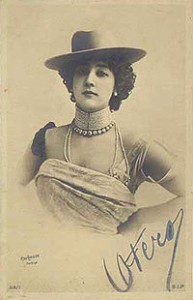 On this day in 1965, dancer, actress and courtesan Carolina "La Belle" Otero died in her apartment at the Hotel Novelty in Nice, France.  Born Agustina Otero Iglesias on 4 November 1868 in Valga, Pontevedra, Galicia (Spain).  She reportedly married an Italian nobleman, Count Guglielmo 1882, but found a sponsor in 1888  who moved with her to Marseille in order to promote her dancing career in France.  She soon left him and created the character of La Belle Otero and became the star of Les Folies Bèrgere productions in Paris.  Soon she was one of the most sought after women in Europe, serving as a courtesan to wealthy and powerful men.  Apparently her lovers included; Prince Albert I of Monaco, King Edward VII of the United Kingdom, Kings of Serbia, and Kings of Spain as well as Russian Grand Dukes Peter and Nicholas, the Duke of Westminster and writer Gabriele D'Annunzio.  Allegedly, duels were fought over her and some of her lovers committed suicide after the affairs ended.  It was once said that her extraordinarily dark black eyes were so captivating that they were "of such intensity that it was impossible not to be detained before them."  Otero said, "Women have one mission in life: to be beautiful. When one gets old, one must learn how to break mirrors."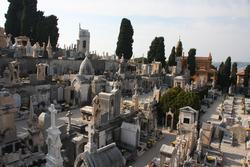 The Final Footprint – Otero is interred in Cimetiére du Château in Nice.  Gaston Leroux is interred there as well.

On this day in 1979, Italian composer, pianist, conductor and academic Nino Rota died at the age of 67 in Rome.  Born Giovanni Rota Rinaldi on 3 December 1911 in Milan, Italy.  Perhaps best known for his film scores, notably for the films of Federico Fellini, Luchino Visconti and Franco Zeffirelli.  He will forever be remembered for his film scores for the first two films of Francis Ford Coppola's Godfather trilogy, receiving the Academy Award for Best Original Score for The Godfather Part II (1974).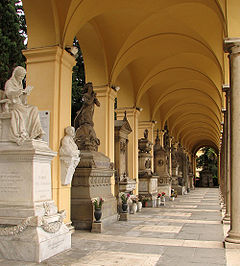 The Final Footprint – Rota shares a simple gravesite with his mother Ernesta, his brother Luigi, and his cousins Maria and Titina.  The gravesite is at Cimitero Verano in Rome.  The entrance near the gravesite is Portonaccio.  There is a marble grave marker which lists the names of those interred.  Special thanks to Nina Rota, Mr. Rota's daughter, for her assistance.  For more on Nino Rota visit his website – http://www.ninorota.com/.
Have you planned yours yet?
Follow TFF on twitter @RIPTFF