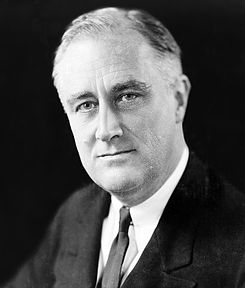 On this day in 1945, the 44th Governor of New York, 32nd President of the United States, FDR, Franklin Delano Roosevelt died from a stroke at his home, The Little White House, in Warm Springs, Georgia at the age of 63.  Born on 30 January 1882 in Hyde Park, New York.  His parents were each from wealthy old New York families of Dutch and French ancestry.  He graduated from Harvard.  FDR married Eleanor Roosevelt, the niece of Theodore Roosevelt, who was also FDR's fifth cousin.  In 1921, Roosevelt contracted an illness which was diagnosed as polio but may have actually been Guillain–Barré syndrome, which left him permanently paralyzed from the waste down.  The only POTUS elected to more than two terms, he served as president from the depths of the Great Depression to the verge of victory in World War II.  He died less than a month before Germany's unconditional surrender in May and four months before Japan's unconditional surrender in August.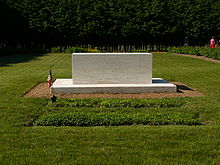 The Final Footprint – Roosevelt is interred in the Rose Garden at his home in Hyde Park which is now a National Historic Site and home to his Presidential Library.  Eleanor was interred next to him upon her death in 1962.  Their graves are marked by a large white marble monument engraved with their names and birth and death years.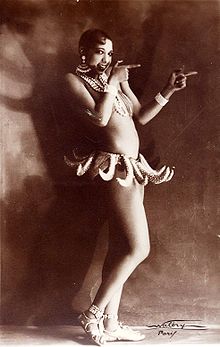 On this day in 1975, dancer, singer, actress, Civil Rights activist, spy, "Black Pearl," "Bronze Venus", "The Creole Goddess", Josephine Baker died from a cerebral hemorrhage at Pitié-Salpêtrière Hospital in Paris at the age of 68.  Born Freda Josephine McDonald in St. Louis, Missouri on 3 June 1906.  Baker was the first black woman to star in a major motion picture, Zouzou (1934) or to become a world-famous entertainer.  Baker, who refused to perform for segregated audiences in America, is also noted for her contributions to the Civil Rights Movement.  She was offered unofficial leadership in the movement in the United States by Coretta Scott King in 1968, following Martin Luther King, Jr.'s assassination.  Baker, however, turned down the offer.  She was also known for assisting the French Resistance during World War II, and received the French military honor, the Croix de guerre and was made a Chevalier of the Légion d'honneur by General Charles de Gaulle.  Baker became a citizen of France in 1937.  She first traveled to Paris for a new venture, and opened in "La Revue Nègre" on 2 October 1925, at the Théâtre des Champs-Élysées.  Baker became an instant success for her erotic dancing and for appearing practically nude on stage.  After a successful tour of Europe, she returned to France to star at the Folies Bergère, setting the standard for her future acts.  Baker was married four times; Willie Wells, Willie Baker, Jean Lion, and composer Jo Bouillon.  The Final Footprint – Baker received a full Roman Catholic funeral which was held at L'Église de la Madeleine.  The only American-born woman to receive full French military honors at her funeral, Baker locked up the streets of Paris one last time.  After a family service at Saint-Charles Church in Monte Carlo, she was interred at Monaco's Cimetière de Monaco.  In 1991, The Josephine Baker Story, was broadcast on HBO.  Lynn Whitfield portrayed Baker, and won an Emmy Award for Outstanding Lead Actress in a Miniseries or a Special—becoming the first Black actress to win the award in this category.
Have you planned yours yet?
Follow TFF on twitter @RIPTFF