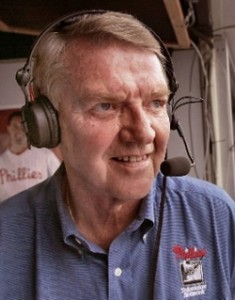 On this day in 2009, sportscaster, Ford C. Frick Award-winning lead play-by-play announcer for Major League Baseball's Philadelphia Phillies, Harry Kalas, died from a heart attack in the press box at Nationals Park, several hours before the Washington Nationals' home opener against the Phillies.  Born Harry Norbert Kalas on 26 March 1936 in Naperville, Illinois.  He graduated for the University of Iowa and served two years in the U. S. Army.  Kalas made his major league debut with the Houston Astros in 1965 and  was hired by the Phillies in 1971.  He called the first game at The Astrodome, six no-hit games, six National League Championship Series, three World Series (1983, 1993, and 2008), the first game at Veterans Stadium (10 April 1971), the last game at Veterans Stadium (28 September 2003), and the first game at Citizens Bank Park (12 April 2004).  Kalas worked in the booth alongside Richie Ashburn for 27 seasons.  The two became best friends and beloved figures in Philadelphia.  Kalas' signature home run call was "Swing … and a long drive, this ball is … outta here!"  He was known for his love of Frank Sinatra's version of the song, "High Hopes" (written by Jimmy Van Heusen and Sammy Cahn), a song he sang at numerous events, including the Phillies' championship celebrations in his later years.  On 29 October 2008, Kalas was finally able to call a Phillies' championship-winning moment in the World Series when Brad Lidge struck out Eric Hinske to win the 104th Fall Classic:  "One strike away; nothing-and-two, the count to Hinske. Fans on their feet; rally towels are being waved. Brad Lidge stretches. The 0-2 pitch — swing and a miss, struck him out! The Philadelphia Phillies are 2008 World Champions of baseball! Brad Lidge does it again, and stays perfect for the 2008 season! 48-for-48 in save opportunities, and let the city celebrate! Don't let the 48-hour wait diminish the euphoria of this moment, and the celebration. And it has been 28 years since the Phillies have enjoyed a World Championship; 25 years in this city that a team that has enjoyed a World Championship, and the fans are ready to celebrate. What a night!"
Baseball is my favorite sport and I enjoy listening to games on the radio.  The Phillies are one of my favorite teams, in part, due to Kalas' voice.  I was listening to the game he would have called they day he died.  He is missed.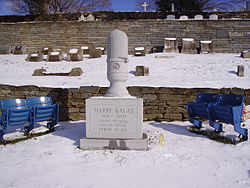 The Final Footprint – Kalas is interred in Laurel Hill Cemetery in Philadelphia.  His grave is marked by an individual upright granite marker with a replica of a microphone on top.  The terms of endearment; LOVING HUSBAND LOVING FATHER FRIEND TO ALL, are engraved on the monument.  On either side of the monument are four seats from Veteran's Stadium.  Kalas became the fourth person to be given the honor of having their body lie in repose inside a major-league baseball stadium, after Babe Ruth, Jack Buck, and Miller Huggins, when his casket was displayed behind home plate and fans were encouraged to pay their respects at Citizens Bank Park.  Friends, broadcast partners, and every player on the Phillies team roster, passed by his casket to pay respects before it was placed in a hearse which carried him out of Citizens Bank Park one final time.  His grave was resurfaced with sod that originally came from Citizens Bank Park.  On 17 April 2009, at the first home game after Kalas' death, fans sang along with a video of Harry singing "High Hopes" during the seventh-inning stretch, instead of the traditional "Take Me Out to the Ball Game".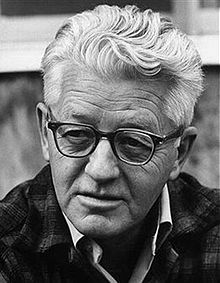 On this day in 1993, novelist, short story writer, environmentalist, and historian, "The Dean of Western Writers", Wallace Stegner died in Santa Fe, New Mexico as the result of a car accident.  Born Wallace Earle Stegner on 18 February 1909 in Lake Mills, Iowa.  He and grew up in Great Falls, Montana; Salt Lake City, Utah; and the village of Eastend, Saskatchewan.  Stegner won the Pulitzer Prize in 1972 for Angle of Repose, and the U.S. National Book Award in 1977 for The Spectator Bird.  He taught at the University of Wisconsin and Harvard University. Eventually he settled at Stanford University, where he founded the creative writing program.  His students included Wendell Berry, Sandra Day O'Connor, Thomas McGuane, Ken Kesey, and Larry McMurtry.  Stegner married once; Mary Stuart Page (1934 – 1993 his death).
Have you planned yours yet?
Follow TFF on twitter @RIPTFF