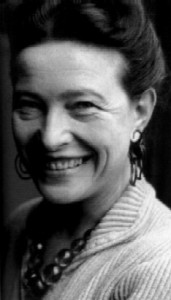 On this day in 1986, existentialist philosopher, public intellectual, social theorist and author, Simone de Beauvoir died of pneumonia in Paris at the age of 78.  Born Simone-Ernestine-Lucie-Marie Bertrand de Beauvoir on 9 January 1908 in Paris.  Perhaps best known for her metaphysical novels, including She Came to Stay (1943) and The Mandarins (1954), and for her treatise The Second Sex (1949).  Also noted for her lifelong polyamorous relationship with Jean-Paul Sartre.  Scholarly discussions have analyzed the influences of Beauvoir and Sartre on one another.  She is seen as having influenced Sartre's masterpiece, Being and Nothingness.  Yet she wrote much on philosophy that is independent of Sartrean existentialism.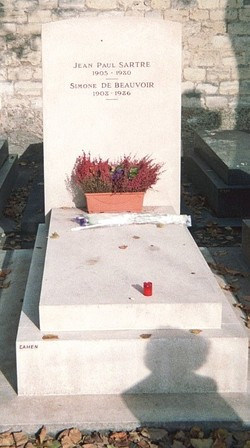 The Final Footprint – Beauvoir is interred with Sartre in the Cimetière du Montparnasse in Paris.  In 2006, the city of Paris commissioned architect Dietmar Feichtinger to design a footbridge solely for pedestrians and cyclists across the Seine River.  The bridge was named the Passerelle Simone-de-Beauvoir in her honor.  It leads to the new Bibliothèque nationale de France.  Other notable Final Footprints at Montparnasse include; Charles Baudelaire,  Samuel Beckett, Emmanuel Chabrier, Guy de Maupassant, Adah Isaac Menken, Camille Saint-Saëns, Jean-Paul Sartre, Jean Seberg, and Susan Sontag.
Have you planned yours yet?
Follow TFF on twitter @RIPTFF