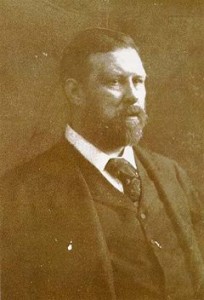 On this day in 1912, novelist and short story writer, Bram Stoker died at No. 26 St. George's Square in Pimlico, London at the age of 64.  Born Abraham Stoker on 8 November 1847 in Clontarf, Dublin, Ireland.  Best known today for his novel Dracula (1897).  Stoker spent several years researching European folklore and mythological stories of vampires.  Dracula is an epistolary novel, written as a collection of fictional diary entries, telegrams, letters, ship's logs, and newspaper clippings, which added a level of detailed realism to his story; a skill he developed as a newspaper writer.  Stoker married Florence Balcombe (1878-1912 his death), a celebrated beauty whose former suitor was Oscar Wilde.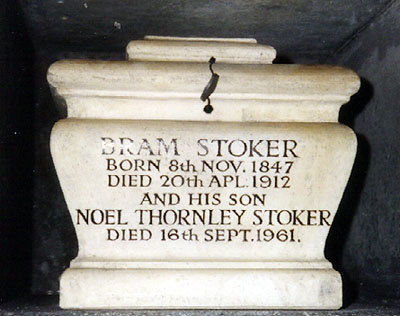 The Final Footprint – Stoker was cremated at Golders Green Crematorium and his cremated remains were placed in a urn at Golders Green.  To pay respects to him, visitors must be escorted to the room where the urn is kept.  The cremated remains of his son, Irving Noel Stoker, were placed in the same urn following his death in 1961.
Other notable Final Footprints at Golders Green include; Sigmund, Martha and Anna Freud; Keith Moon; and Anna Pavlova.  In addition, among those who were cremated here, but whose cremated remains are elsewhere; Neville Chamberlain, T. S. Eliot, Henry James, Rudyard Kipling, Vivien Leigh, H. G. Wells, and Amy Winehouse.
Stoker did not invent the vampire, but his novel's influence on the popularity of vampires has been singularly responsible for many theatrical, film and television interpretations since its publication.  Dracula was not an immediate bestseller, although reviewers were unstinting in their praise.  It only reached its broad iconic legendary classic status later when the movie versions appeared.  The first film adaptation was Nosferatu (1922), directed by Friedrich Wilhelm Murnau and starred Max Schreck as Count Orlock.  The first authorized film version was Tod Browning's Dracula (1931) starring Bela Lugosi as Count Dracula.  My favorite version is Francis Ford Coppola's Bram Stoker's Dracula (1992), starring Gary Oldman as Count Dracula and Winona Ryder as Mina Harker, and featuring Anthony Hopkins as Professor Abraham Van Helsing, Keanu Reeves as Jonathan Harker, and Sadie Frost as Lucy Westenra.  In 2009, Dracula: The Un-Dead, a sequel novel was released, written by Dacre Stoker, his great-grandnephew, and Ian Holt.
Have you planned yours yet?
Follow TFF on twitter @RIPTFF