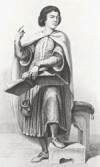 On this day in 1142, medieval French scholastic philosopher, theologian and preeminent logician, composer Peter Abelard died in the priory of St. Marcel, near Chalon-sur-Saone at the age of 62 or 63.  Born Pierre le Pallet, c1079 in Le Pallet, near Nantes, in Brittany.  Perhaps best known for his legendary affair with and love for Héloïse d'Argenteuil.  The Chambers Biographical Dictionary describes him as "the keenest thinker and boldest theologian of the 12th Century."  Heloise lived within the precincts of Notre-Dame, under the care of her uncle, the secular canon Fulbert.  She was remarkable for her knowledge of classical letters, which extended beyond Latin to Greek and Hebrew.  Abélard sought a place in Fulbert's house, and then in 1115 or 1116 began an affair with Héloïse.  The affair interfered with his career, and Abélard himself boasted of his conquest.  Once Fulbert found out, he separated them, but they continued to meet in secret.  Héloïse became pregnant and was sent by Abélard to be looked after by his family in Brittany, where she gave birth to a son whom she named Astrolabe after the scientific instrument.  Abélard proposed a secret marriage so as not to mar his career prospects.  Héloïse initially opposed it, but the couple were married.  When Fulbert publicly disclosed the marriage, and Héloïse denied it, Abelard sent Héloïse to the convent at Argenteuil, where she had been brought up, in order to protect her from her uncle.  Heloise dressed as a nun and shared the nun's life, though she was not veiled.  Héloïse sent letters to Abélard, questioning why she must submit to a religious life for which she had no calling.  Fulbert, most probably believing that Abélard wanted to be rid of Héloïse by forcing her to become a nun, arranged for a band of men to break into Abelard's room one night and castrate him, effectively ending his romantic career.  In reaction, Abelard decided to become a monk at the monastery of St Denis, near Paris.  As if the story could not get weirder…  The Final Footprint – Abelard was first buried at St. Marcel, but his remains were soon carried off secretly to the Paraclete, and given over to the loving care of Héloïse, who in time came herself to rest beside him in 1163.  The bones of the pair were moved more than once afterwards, but they were preserved even through the vicissitudes of the French Revolution, and now are presumed to lie in the well-known tomb in Père Lachaise Cemetery in eastern Paris.  The transfer of their remains there in 1817 is considered to have considerably contributed to the popularity of that cemetery, at the time still far outside the built-up area of Paris.  By tradition, lovers or lovelorn singles leave letters at the crypt, in tribute to the couple or in hope of finding true love.  However, this chain of events is disputed.  The Oratory of the Paraclete claims Abélard and Héloïse are buried there and that what exists in Père-Lachaise is merely a monument, or cenotaph.  Others believe that while Abelard is buried in the tomb at Père-Lachaise, Heloïse's remains are elsewhere.  Other notable Final Footprints at Père Lachaise include; Honoré de Balzac, Jean-Dominique Bauby, Georges Bizet, Maria Callas, Chopin, Colette, Auguste Comte, Jean-Baptiste-Camille Corot, Molière, Jim Morrison, Édith Piaf, Camille Pissarro, Marcel Proust, Sully Prudhomme, Gioachino Rossini, Georges-Pierre Seurat, Simone Signoret, Gertrude Stein, Alice B. Toklas, Oscar Wilde, and Richard Wright.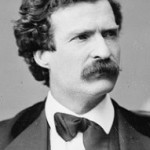 On this day in 1910, author and humorist, Mark Twain died of a heart attack in Redding, Connecticut at the age of 74.  Born Samuel Langhorne Clemens on 30 November 1835 in Florida, Missouri.  Perhaps most noted for his novels, The Adventures of Tom Sawyer (1876), and its sequel, Adventures of Huckleberry Finn (1885).  Ernest Hemingway said  "All modern American literature comes from" Huckleberry Finn.  William Faulkner called Twain "the father of American literature."  Jimmy Buffett included Twain's Following the Equator (1869) on his "baker's dozen of books I would have to take to a desert island."  Twain was a steamboat pilot on the Mississippi and took his pen name from the riverboat measurement term "mark twain" or two fathoms (12 feet).  Two fathoms, a depth indicating safe water for passage of boat, was measured on the sounding line.  The term twain is an archaic term for "two."  The riverboatman's cry was by the mark twain, meaning according to the mark on the line, the depth is two fathoms and it is safe to pass.  Twain married Olivia Langdon (1870-1904 her death).  In 1909, Twain was quoted as saying:  "I came in with Halley's Comet in 1835.  It is coming again next year, and I expect to go out with it.  It will be the greatest disappointment of my life if I don't go out with Halley's Comet.  The Almighty has said, no doubt: 'Now here are these two unaccountable freaks; they came in together, they must go out together."  His prediction was accurate and he got his wish passing away one day after the comet's closest approach to earth.  Both Tom Sawyer and Huck Finn were a part of my childhood.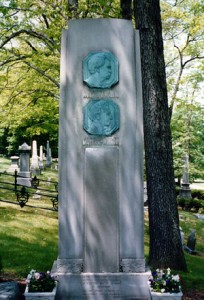 The Final Footprint – Twain is interred in the Langdon family plot next to his wife and three of his four children, who preceded him in death, in Woodlawn Cemetery in Elmira, New York.   Their plot is marked by a 12-foot (i.e., two fathoms, or "mark twain") monument.  His grave is marked by an upright granite headstone.  Twain's legacy lives on and his namesakes continue to grow; schools, structures, people and awards.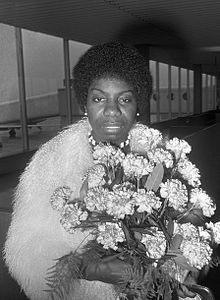 On this day in 2003,  singer, songwriter, pianist, arranger, and civil rights activist, Nina Simone died in her sleep at her home in Carry-le-Rouet, Bouches-du-Rhône from breast cancer at the age of 70.  Born Eunice Kathleen Waymon in Tryon, North Carolina on 21 February 1933.  Simone worked in a broad range of musical styles including classical, jazz, blues, folk, R&B, gospel, and pop.  Her recording Gershwin and Gershwin's, "I Loves You, Porgy" was a hit in the United States in 1958.  Over the length of her career Simone recorded more than 40 albums, mostly between 1958, when she made her debut with Little Girl Blue, and 1974.  Her musical style arose from a fusion of gospel and pop songs with classical music, in particular with influences from her first inspiration, Johann Sebastian Bach, and accompanied with her expressive jazz-like singing in her characteristic contralto voice.  She injected her classical background into her music as much as possible to give it more depth and quality, as she felt that pop music was inferior to classical.  Her intuitive grasp on the audience–performer relationship was gained from a unique background of playing piano accompaniment for church revivals and sermons regularly from the early age of six years old.  The Final Footprint – Her funeral service was attended by singers Miriam Makeba and Patti LaBelle, poet Sonia Sanchez, actor Ossie Davis, among others.  Simone's ashes were scattered in several African countries.
Prince

Prince performing at the 2008 Coachella Festival

 

 

 
On this day in 2016,  singer-songwriter, actor, multi-instrumentalist, philanthropist, dancer and record producer, Camille,
(Love Symbol), The Artist Formerly Known as Prince (TAFKAP), The Artist, Prince died from an accidental fentanyl opioid overdose at his Paisley Park home in Chanhassen, Minnesota at the age of 57.  Born Prince Rogers Nelson on June 7, 1958 in Minneapolis, Minnesota.  Prince was a musical innovator who was known for his eclectic work, flamboyant stage presence, extravagant dress and makeup, and wide vocal range. His music integrates a wide variety of styles, including funk, rock, R&B, new wave, soul, psychedelia, and pop. He has sold over 100 million records worldwide, making him one of the best-selling artists of all time. He won seven Grammy Awards, an American Music Award, a Golden Globe Award, and an Academy Award for the film Purple Rain. He was inducted into the Rock and Roll Hall of Fame in 2004, his first year of eligibility.
He signed a recording contract with Warner Bros. at the age of 18, and released his debut album For You in 1978. His 1979 album Prince went platinum, and his next three records—Dirty Mind (1980), Controversy (1981), and 1999 (1982. In 1984, he began referring to his backup band as the Revolution and released Purple Rain, the soundtrack album to his eponymous 1984 film debut. It quickly became his most critically and commercially successful release, spending 24 consecutive weeks atop the Billboard 200 and selling over 20 million units worldwide. After releasing the albums Around the World in a Day (1985) and Parade (1986), The Revolution disbanded, and Prince released the double album Sign o' the Times (1987) as a solo artist. He released three more solo albums before debuting the New Power Generation band in 1991.
In 1993, while in a contractual dispute with Warner Bros., he changed his stage name to
, an unpronounceable symbol also known as the "Love Symbol", and began releasing new albums at a faster pace to remove himself from contractual obligations. He released five records between 1994 and 1996 before signing with Arista Records in 1998. In 2000, he began referring to himself as "Prince" again. He released 16 albums after that, including the platinum-selling Musicology (2004). His final album, Hit n Run Phase Two, was first released on the Tidal streaming service on December 12, 2015.
The Final Footprint – Prince was cremated and his cremains were placed into a custom, 3D printed urn shaped like the Paisley Park estate. The urn is on display in the atrium of the Paisley Park complex.
Have you planned yours yet?
Follow TFF on twitter @RIPTFF