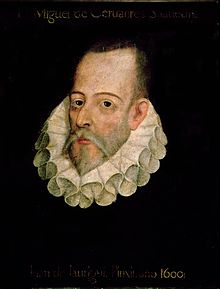 On this day in 1616, soldier, novelist, poet and playwright, El Príncipe de los Ingenios ("The Prince of Wits"), Miguel de Cervantes died in Madrid at the age of 68.  Born Miguel de Cervantes Saavedra, presumably, in Alcalá de Henares, a Castilian city near Madrid, on 29 September (the feast day of Saint Michael the Archangel) 1547.  His magnum opus, Don Quixote, in my opinion, the first modern European novel, is a classic of Western literature, and is amongst the best works of fiction ever written.  His influence on the Spanish language has been so great that the language is often called la lengua de Cervantes ("the language of Cervantes").  In 1585, Cervantes published a pastoral novel named La Galatea.  Because of financial problems, he worked as a purveyor for the Spanish Armada, and later as a tax collector.  In 1597, discrepancies in his accounts of three years previous landed him in the Crown Jail of Seville.  In 1605, he was in Valladolid when the immediate success of the first part of his Don Quixote, published in Madrid, signaled his return to the literary world.  In 1607, he settled in Madrid, where he lived and worked until his death.  During the last 9 years of his life, Cervantes solidified his reputation as a writer; he published the Novelas ejemplares (Exemplary Novels) in 1613, the Journey to Parnassus (Viaje al Parnaso) in 1614, and in 1615, the Ocho comedias y ocho entremeses and the 2nd part of Don Quixote.  The Final Footprint – In accordance with Cervantes' will, he was buried in the neighboring convent of Trinitarian nuns, in central Madrid.  According to the English newspaper The Guardian, his "bones went missing in 1673 when building work was done at the convent. They are known to have been taken to a different convent and were returned later."  Don Quixote has been the subject of a variety of works in other fields of art, including operas by the Italian composer Giovanni Paisiello, the French Jules Massenet, and the Spanish Manuel de Falla, a Russian ballet by the Russian-German composer Ludwig Minkus, a tone poem by the German composer Richard Strauss, a German film (1933) directed by G. W. Pabst, a Soviet film (1957) directed by Grigori Kozintsev, a 1965 ballet (no relation to the one by Minkus) with choreography by George Balanchine, an American musical – Man of La Mancha (1965) – by Dale Wasserman, Mitch Leigh, and Joe Darion, which was made into a film in 1972, directed by Arthur Hiller, and a song by Brazilian tropicalia-pioneers Os Mutantes.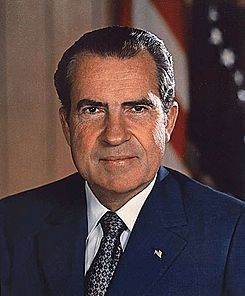 On this day in 1994, U. S. Navy veteran, U. S. Senator from California, 36th Vice President of the U. S., 37th President of the U. S., author Richard Milhous Nixon died from a stroke at New York Hospital-Cornell Medical Center in Manhattan at the age of 81.  Born 9 January 1913 in Yorba Linda, California.  He graduated from Whittier College in Whittier, California and received his law degree from Duke University.  Nixon said "I always remember that whatever I have done in the past or may do in the future, Duke University is responsible in one way or another."  Nixon was married  to Thelma Catherine "Pat" Ryan (1940-1993 her death).  He served as Vice President during both of President Dwight D. Eisenhower's terms in office.  Nixon and his running mate, Henry Cabot Lodge, Jr. lost the 1960 presidential election to John F. Kennedy and his running mate Lyndon Baines Johnson.  He lost the 1962 governor of California election to Pat Brown.  Nixon again ran for president, with Spiro Agnew as his running mate, in 1968 this time defeating Vice President Hubert H. Humphrey.  He and Agnew ran for reelection in 1972 winning in a landslide over George McGovern and Sargent Shriver (JFK's brother-in-law and father of Maria Owings Shriver Schwarzenegger).  On 10 October 1973, Vice President Agnew resigned, amid charges of bribery, tax evasion and money laundering from his tenure as Maryland's governor.  Nixon chose Gerald Ford, Republican Minority Leader of the House of Representatives, to replace Agnew.  Nixon resigned the office of the presidency on 9 August 1974 over the Nixon administration's involvement and subsequent cover-up of the break-in to Democratic party headquarters at the Watergate Hotel in Washington, D.C. on 17 June 1972.  During the subsequest investigation, Nixon said during a 17 November 1973 televised question and answer session with the press; "People have got to know whether or not their President is a crook.  Well, I'm not a crook. I've earned everything I've got."  Ford took the oath of office the day Nixon resigned becoming the 38th POTUS.  Ford selected Nelson Rockefeller to fill the vice presidency.  On 8 September 1974, Ford granted Nixon a "full, free, and absolute pardon". This ended any possibility of an indictment.  Nixon then released a statement: "I was wrong in not acting more decisively and forthrightly in dealing with Watergate… No words can describe the depths of my regret and pain at the anguish of my mistakes over Watergate have caused the nation and presidency, a nation I so deeply love and an institution I so greatly respect."  Nixon would spend the remaining 20 years of his life rebuilding his reputation as a world statesman and adviser on foreign affairs to his presidential successors.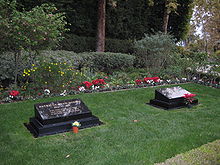 The Final Footprint – Nixon is interred next to his wife Pat at the Richard Nixon Library and Birthplace in Yorba Linda.  His grave is marked by an upright slant granite marker and features the inscription; "THE GREATEST HONOR HISTORY CAN BESTOW IS THE TITLE OF PEACEMAKER."  At his funeral, eulogies were delivered by President Bill Clinton, former Secretary of State Henry Kissinger, Senate Minority Leader Bob Dole, California Governor Pete Wilson, and the Reverend Billy Graham.  In attendance were former Presidents Ford, Jimmy Carter, Ronald Reagan, George H. W. Bush and their respective first ladies.  In keeping with his wishes, his funeral was not a full state funeral.  Nixon has been portrayed in multiple films and has been the subject of several books.  The films include; Oliver Stone's Nixon (1995) starring Anthony Hopkins and Ron Howard's Frost/Nixon (2008) starring Frank Langella which received five Oscar nominations; Best Picture, Best Director and Best Actor.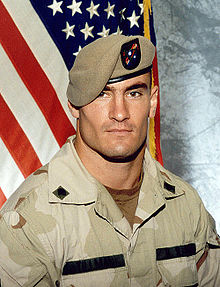 On this day in 2004, Arizona State Sun Devil, pro football player and United States Army Ranger, Pat Tillman died in the mountains of Afghanistan as a result of a friendly fire incident.  Born Patrick Daniel Tillman on 6 November 1976, in Fremont, California.  Tillman left his professional career and enlisted in the United States Army in June 2002 in the aftermath of the September 11 attacks.  His service in Iraq and Afghanistan, and subsequent death, were the subject of much media attention.  Tillman served several tours in combat before he died.  At first, the Army reported that Tillman had been killed by enemy fire.  Controversy ensued when the Pentagon notified the Tillman family that he had died as a result of a friendly fire incident.  Tillman's family and other critics allege that the Department of Defense delayed the disclosure for weeks after Tillman's memorial service out of a desire to protect the image of the U.S. armed forces.  The Final Footprint – Tillman was cremated and his cremains were scattered at sea.  He received posthumous Silver Star and Purple Heart medals.  After his death, the Pat Tillman Foundation was established to carry forward its view of Tillman's legacy by inspiring and supporting those striving for positive change in themselves and the world.  A highway bypass around the Hoover Dam has a bridge bearing Tillman's name.  Completed in October 2010, the Mike O'Callaghan – Pat Tillman Memorial Bridge spans the Colorado River between Nevada and Arizona.  On Sunday 19 September 2004, all teams of the NFL wore a memorial decal on their helmets in honor of Pat Tillman.  The Arizona Cardinals continued to wear this decal throughout the 2004 season.  The Cardinals retired his number 40, and Arizona State did the same for the number 42 he wore with the Sun Devils.  The Cardinals have named the plaza surrounding their University of Phoenix Stadium in Glendale Pat Tillman Freedom Plaza.  On 12 November 2006, during a Cardinals game versus the Cowboys, a bronze statue was revealed in his honor.  ASU also named the football locker room entryway to Sun Devil Stadium the "Pat Tillman Memorial Tunnel" and made a "PT-42" patch that they place on the neck of their uniforms as a permanent feature.  Before the 2013 seaon, the Tillman Tunnel was renovated with graphics, signage, double doors separate the locker room from the tunnel, and television replaying Tillman's career highlights, sound system and a gate opens up to the field featuring an image of him looking as if he's leading the team out.  In 2004, the NFL donated $250,000 to the United Service Organizations to build a USO center in memory of Tillman.  The Pat Tillman USO Center, the first USO center in Afghanistan, opened on Bagram Air Base on 1 April 2005.  The Pacific-10 Conference renamed its annual defensive player-of-the-year award in football to the Pat Tillman Defensive Player of the Year.  Forward Operating Base Tillman is close to the Pakistan border, near the village of Lwara in Paktika Province, Afghanistan.  Tillman's high school, Leland High School in San Jose, renamed its football field after him.  In New Almaden, an unincorporated community adjacent to San Jose, CA where Tillman grew up, a memorial was constructed near the Almaden Quicksilver County Park.  Jon Krakauer, author of Into Thin Air and Into the Wild, chronicles Tillman's story in Where Men Win Glory: The Odyssey of Pat Tillman, published by Doubleday on 15 September 2009.  Tillman's mother, Mary Tillman, wrote a book about her son, Boots on the Ground by Dusk, which was released in April 2008.
Have you planned yours yet?
Follow TFF on twitter @RIPTFF