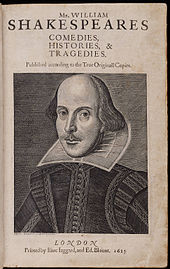 On this day in 1616, poet and playwright, William Shakespeare died in Stratford-upon-Avon, Warwickshire, England at the age of 52.  Born in Stratford-upon-Avon and baptised there on 26 April 1564.  His actual birthdate remains unknown, but is traditionally observed on 23 April, St George's Day, which if right, would have him dying on the day he was born.  In my opinion, Shakespeare is the greatest writer in the English language and the world's pre-eminent dramatist.  Few records of Shakespeare's private life survive, which has fueled considerable speculation about his life including whether the works attributed to him were written by others.  Shakespeare was respected in his own day, but his reputation did not rise to its present heights until the 19th century.  The Romantics, in particular, acclaimed Shakespeare's genius, and the Victorians worshipped Shakespeare with a reverence that George Bernard Shaw called "bardolatry."  Shakespeare was married to Anne Hathaway (1582-1616 his death).  I am a big, literally and figuratively, fan of the man.  His collected works would clearly make my list of a dozen favorite books.  My favorite plays are his tragedies;  Romeo and Juliet, Hamlet, King Lear, and Macbeth.  I often quote him in my writing and speech.  A few of the best;
All the world's a stage, and all the men and women merely players: they have their exits and entrances; and one man in his time plays many parts… As You Like It, Act II, Scene 7     But soft, what light through yonder window breaks?
It is the east, and Juliet is the sun.
Arise, fair sun, and kill the envious moon,
Who is already sick and pale with grief
That thou, her maid, art far more fair than she.
Romeo And Juliet Act 2, scene 2   And Caesar's spirit, raging for revenge,
With Ate by his side come hot from hell,
Shall in these confines with a monarch's voice
Cry "Havoc!" and let slip the dogs of war,
That this foul deed shall smell above the earth
With carrion men, groaning for burial.
Julius Caesar Act 3, scene 1   Once more unto the breach, dear friends, once more;
Or close the wall up with our English dead.
In peace there's nothing so becomes a man
As modest stillness and humility;
But when the blast of war blows in our ears,
Then imitate the action of the tiger. . . .
Henry The Fifth Act 3, scene 1
And of course, the "To be, or not to be" solilioquy from Hamlet.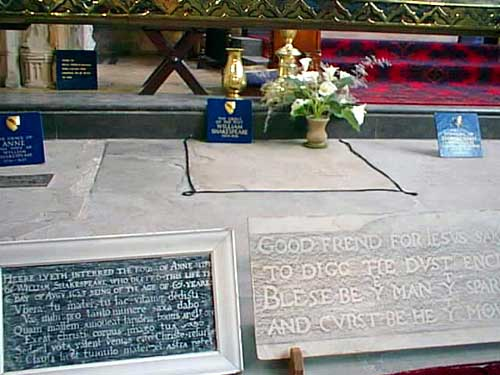 The Final Footprint – Shakespeare was buried in the chancel of the Holy Trinity Church in Stratford-upon-Avon.  Reportedly, Shakespeare's body is buried 20 feet deep to prevent its theft.  Above the grave a stone slab displays his epitaph:  GOOD FREND FOR IESUS SAKE FORBEARE, TO DIGG THE DVST ENCLOASED HEARE.  BLESTE BE YE MAN YT SPARES THES STONES, AND CVRST BE HE YT MOVES MY BONES.  Perhaps a warning to those who might want to have him moved to Westminster Abbey or exhumed for examination?  Sometime before 1623, a funerary monument was erected in his memory on the north wall, with a half-effigy of him in the act of writing.  The plaque compares him to Nestor, Socrates, and Virgil.  Shakespeare has been commemorated in many statues and memorials around the world, including funeral monuments in Southwark Cathedral and Poets' Corner in Westminster Abbey.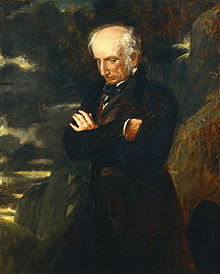 On this day in 1850, Romantic poet, William Wordsworth died by aggravating a case of pleurisy at the age of 80 in Cumberland.  Born on 7 April 1770 in Wordsworth House in Cockermouth, Cumberland, part of the scenic region in northwest England, the Lake District.  With his friend, Samuel Taylor Coleridge, Wordsworth helped to launch the Romantic Age in English literature with their 1798 joint publication Lyrical Ballads.  Wordsworth's magnum opus is generally considered to be The Prelude, a semiautobiographical poem of his early years which he revised and expanded a number of times.  It was posthumously titled and published, prior to which it was generally known as "the poem to Coleridge".  Wordsworth was Britain's Poet Laureate from 1843 until his death in 1850.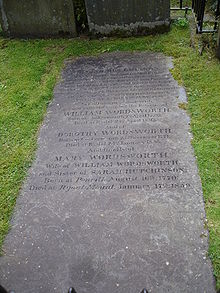 The Final Footprint – Wordsworth was buried at St. Oswald's church in the village of Grasmere, in the Lake District, Cumbria, England.  It is an active Anglican parish church in the deanery of Windermere, the archdeaconry of Westmorland and Furness, and the diocese of Carlisle.  The church has been designated by English Heritage as a Grade I listed building.  It is notable for its associations with Wordsworth and his family, and for its annual ceremony of rushbearing.
Have you planned yours yet?
Follow TFF on twitter @RIPTFF