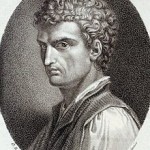 On this day in 1472, Italian author, artist, architect, poet, priest, linguist, philosopher, cryptographer, polymath, Renaissance man, Leon Battista Alberti died in Rome at the age of 68.  Born in Genoa on 14 February 1404.  Although he is often characterized as an "architect" exclusively, as art historian James Beck has observed, "to single out one of Leon Battista's 'fields' over others as somehow functionally independent and self-sufficient is of no help at all to any effort to characterize Alberti's extensive explorations in the fine arts."  Alberti's life was described in Giorgio Vasari's Vite de' più eccellenti pittori, scultori, e architettori or 'Lives of the most excellent painters, sculptors and architects'.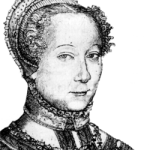 On this day in 1566, La Belle Cordière, (The Beautiful Ropemaker), French poet of the Renaissance, Louise Labé died in Parcieux-en-Dombes, France at the age of about 44.  Born in 1520 or 1522 in Lyon.  Her Œuvres include two prose works and poetry.  Her poetry consists of three elegies in the style of the Heroides of Ovid, and twenty-four sonnets that draw on the traditions of Neoplatonism and Petrarchism.  The Debat, the most popular of her works in the sixteenth century, inspired one of the fables of Jean de la Fontaine.  The sonnets, remarkable for their frank eroticism, have been her most famous works following the early modern period.  The Final Footprint – La Belle Cordière was interred on her country property close to Parcieux-en-Dombes, outside Lyon.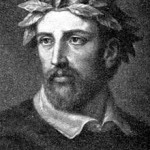 On this day in 1595, Italian poet Torquato Tasso died at the convent of Sant'Onofrio in Rome at the age of 51.  Born in Sorrento, Kingdon of Naples on 11 March 1544.  Perhaps best known for his poem La Gerusalemme liberata (Jerusalem Delivered, 1580), in which he depicts a highly imaginative version of the combats between Christians and Muslims at the end of the First Crusade, during the siege of Jerusalem.  He suffered from mental illness and died a few days before he was due to be crowned as the king of poets by the Pope.  Until the beginning of the 19th century, Tasso remained one of the most widely read poets in Europe.  The Final Footprint – Tasso is entombed in Sant'Onofrio.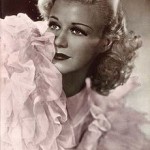 On this day in 1995, Academy Award-winning actress, singer and dancer, Ginger Rogers died in Rancho Mirage, California of congestive heart failure at the age of 83.  Born Virginia Catherine McMath on 16 July 1911 in Independence, Missouri.  This year, 2011, will mark the 100th anniversary of her birth.  Best known for her role as Fred Astaire's romantic interest and dancing partner in a series of ten Hollywood musical films that revolutionized the genre.  She won the Academy Award for Best Actress for her performance in Kitty Foyle (1940).    When Rogers was nine years old, her mother Lela married John Logan Rogers.  They lived in Fort Worth, Texas.  Rogers reportedly dated Howard Hughes and even turned down his proposal.  Rogers was married five times; Jack Pepper (1929-1931 divorce), Lew Ayres (1934-1941 divorce), Jack Briggs (1943-1949 divorce), Jacques Bergerac (1953-1957 divorce), and William Marshall (1961-1969 divorce).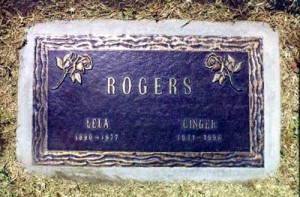 The Final Footprint – Rogers was cremated and her cremains were interred next to her mother's, and just a short distance from Fred Astaires's grave, in Oakwood Memorial Park in Chatsworth, California.
Have you planned yours yet?
Follow TFF on twitter @RIPTFF