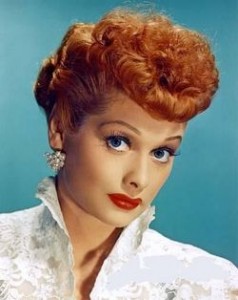 On this day in 1989, legendary comedian, film, television, stage and radio actress, model, film and television executive, multiple Emmy winner, Lucille Ball died Cedars-Sinai Medical Center in Los Angeles from an aortic aneurysm at the age of 77.  Born Lucille Désirée Ball on 6 August 1911 in Jamestown, New York.  Perhaps best known as the star of the sitcom I Love Lucy, co-starring her then husband Desi Arnaz as Ricky Ricardo and Vivian Vance and William Frawley as Ethel and Fred Mertz, the Ricardo's landlords and friends.  Ball met and eloped with Cuban bandleader Arnaz in 1940.  Ball and Arnaz founded Desilu Productions and Desilu Studios which was home to I Love Lucy and other hit television shows including;  Star Trek, The Andy Griffith Show, Mission: Impossible, The Dick Van Dyke Show, The Lucy Show, My Three Sons, Family Affair, The Untouchables, I Spy, Mannix, Gomer Pyle, USMC, and That Girl.  On 17 July 1951, almost 40 years old, Ball gave birth to their first child, Lucie Désirée Arnaz.  A year and a half later, Ball gave birth to their second child, Desiderio Alberto Arnaz IV, known as Desi Arnaz, Jr.  Ball and Arnaz divorced on 4 May 1960.  Her second marriage was to Gary Morton (1961-1989 her death).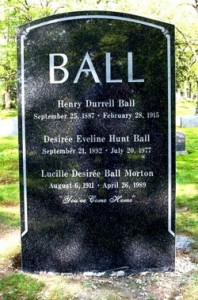 The Final Footprint – Ball was cremated and her cremains were initially interred in Forest Lawn Hollywood Hills Cemetery in Los Angeles.  In 2002, her children had her cremains moved to the Ball family plot at Lake View Cemetery in Jamestown, New York where Ball's mother, father, brother, and grandparents are buried.  Her grave and her parent's is marked by a large black granite upright marker with the insription; "You've Come Home".
Have you planned yours yet?
Follow TFF on twitter @RIPTFF