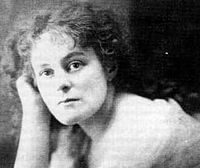 On this day in 1953, English-born Irish revolutionary, feminist, actress, and muse of William Butler Yeats, Maud Gonne died in Clonskeagh, Ireland at the age of 86.  Born Edith Maud Gonne on 21 December 1866 in Tongham near Farnham, Surrey, England.  She was won over to Irish nationalism by the plight of evicted people in the Land Wars.  In 1889, she first met Yeats, who fell in love with her.  Gonne in turn, was in love with Lucien Millevoye a French journalist and right-wing politician with whom she would have two children.  Many of Yeats's poems are inspired by her, or mention her.  He wrote the plays The Countess Cathleen and Cathleen Ní Houlihan for her.  His poem Aedh wishes for the Cloths of Heaven ends with a reference to her:
I have spread my dreams under your feet;

Tread softly because you tread on my dreams.
Few poets have celebrated a woman's beauty to the extent Yeats did in his lyric verse about Gonne.  From his second book to Last Poems, she became the Rose, Helen of Troy (in No second Troy), the Ledaean Body (Leda and the Swan and Among School Children), Cathleen Ní Houlihan, Pallas Athene and Deirdre.  Gonne turned down several proposals from Yeats before marrying John MacBride with whom she would have a son, Seán MacBride.  She and MacBride would separate in 1904.  Gonne and Yeats reportedly finally consummated their relationship in Paris in 1908.  Yeats' long years of fidelity, so to speak, were rewarded at last, although Yeats would later remark that "the tragedy of sexual intercourse is the perpetual virginity of the soul."  The relationship did not develop into a new phase after their night together.  Soon afterwards, Gonne wrote to the poet indicating that despite the physical consummation, they could not continue as they had been: "I have prayed so hard to have all earthly desire taken from my love for you and dearest, loving you as I do, I have prayed and I am praying still that the bodily desire for me may be taken from you too."  By January 1909, Gonne was sending Yeats letters praising the advantage given to artists who abstain from sex.  Nearly twenty years later, Yeats recalled the night with Gonne in his poem "A Man Young and Old":
My arms are like the twisted thorn
And yet there beauty lay;
The first of all the tribe lay there
And did such pleasure take;
She who had brought great Hector down
And put all Troy to wreck.
Gonne published her autobiography in 1938, titled A Servant of the Queen.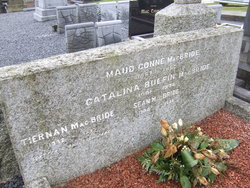 The Final Footprint – Gonne is interred in Glasnevin Cemetery in Dublin, the largest nondenominational cemetery in Ireland.  Her grave is marked by a simple upright stone marker.  Upon their deaths, her son, his wife and their son were interred next to her.  Michael Collins is also interred at Glasnevin.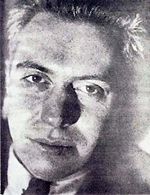 On this day in 1932, poet Hart Crane likely committed suicide by jumping overboard from the steamship Orizaba, in the Gulf of Mexico, at the age of 32.  Born Harold Hart Crane on 21 July 1899 in Garrettsville, Ohio.  Finding both inspiration and provocation in the poetry of T. S. Eliot, Crane wrote modernist poetry that was difficult, highly stylized, and ambitious in its scope.  In perhaps his most ambitious work, The Bridge, Crane sought to write an epic poem, in the vein of The Waste Land, that expressed a more optimistic view of modern, urban culture than the one that he found in Eliot's work.  Crane never married.  The Final Footprint – Although evidently, Crane had been drinking heavily and left no suicide note, witnesses believed his intentions to be suicidal, as several reported that he exclaimed "Goodbye, everybody!" before throwing himself overboard.  His body was never recovered.  A marker on his father's tombstone in Garrettsville includes the inscription, "Harold Hart Crane 1899–1932 lost at sea". 
In the years following his suicide at the age of 32, Crane has been hailed by playwrights, poets, and literary critics alike, as being one of the most influential poets of his generation.  Crane is the subject of The Broken Tower, a 2011 American student film by the actor James Franco who wrote, directed, and starred in the film which was the Master thesis project for his MFA in filmmaking at New York University.  He loosely based his script on Paul Mariani's 1999 nonfiction book The Broken Tower: A Life of Hart Crane.  Beyond poetry, Crane's suicide inspired several works of art by noted artist Jasper Johns, including "Periscope," "Land's End," and "Diver," the "Symphony for Three Orchestras" by Elliott Carter (inspired by the "Bridge") and the painting by Marsden Hartley "Eight Bells' Folly, Memorial for Hart Crane."
Have you planned yours yet?
Follow TFF on Twitter @RIPTFF