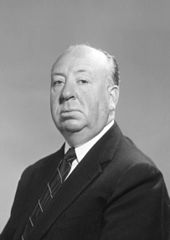 On this day in 1980, director and producer, Sir Alfred Hitchcock died of renal failure in his Bel Air, Los Angeles, California home at the age of 80.  Born Alfred Joseph Hitchcock on 13 August 1899 in Leytonstone, London, England.  One of the most influential filmmakers of all time.  Hitchcock took suspense and psychological thrills to a whole new level in his films.  His stories frequently feature fugitives on the run and beautiful blonde female characters.  My favorite Hitchcock movies include: Suspicion (1941) with Cary Grant and Joan Fontaine; Spellbound (1945) with Gregory Peck and Ingrid Bergman; Notorious (1946) with Grant and Bergman; Dial M for Murder (1954) with Ray Milland and Grace Kelly; Rear Window (1954) with Jimmy Stewart and Kelly; To Catch a Thief (1955) with Grant and Kelly; Vertigo (1958) with Stewart and Kim Novak; North by Northwest (1959) with Grant and Eva Marie Saint; and Psycho (1960) with Anthony Perkins and Janet Leigh.
The Final Footprint – Hitchcock was cremated and his cremains were scattered in the Pacific Ocean.
Have you planned yours yet?
Follow TFF on twitter @RIPTFF