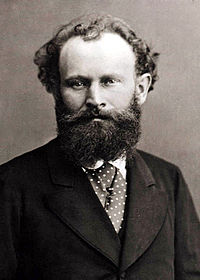 On this day in 1883, painter Édouard Manet died from complications of syphilis in Paris at the age of 51.  Born in Paris on 23 January 1832, in his families ancestral hôtel particulier on the rue Bonaparte.  Manet was one of the first 19th-century artists to paint modern life, and, in my opinion, a pivotal figure in the transition from Realism to Impressionism.  His early masterworks, The Luncheon on the Grass (Le déjeuner sur l'herbe) (see below right) and Olympia, (see below left) both 1863, caused great controversy and served as rallying points for the young painters who would create Impressionism.  Today, these are considered watershed paintings that mark the genesis of modern art.  After the death of his father in 1862, Manet married Suzanne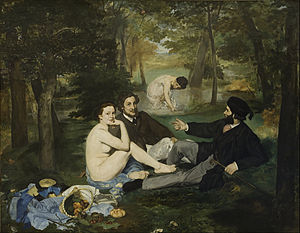 Leenhoff in 1863.  Leenhoff was a Dutch-born piano teacher of Manet's age with whom he had been romantically involved for approximately ten years.  Leenhoff initially had been employed by Manet's father, Auguste, to teach Manet and his younger brother piano.  She also may have been Auguste's mistress.  In 1852, Leenhoff gave birth, out of wedlock, to a son, Leon Koella Leenhoff.  Eleven-year-old Leon Leenhoff,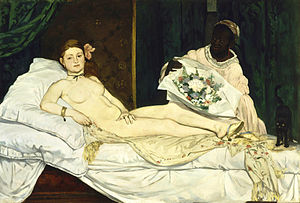 whose father may have been either of the Manets, posed often for Manet, most famously, as the subject of the Boy Carrying a Sword of 1861 (Metropolitan Museum of Art, New York).  He also appears as the boy carrying a tray in the background of The Balcony.  Manet painted his wife in The Reading, among other paintings.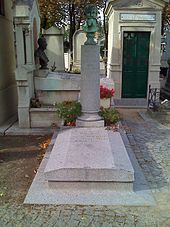 The Final Footprint – Manet is buried in Passy Cemetery in the 16th arrondissement of Paris.  Opened in 1820 in the expensive residential and commercial districts of the Right Bank near the Champs-Élysées, by 1874 the small Passy Cemetery had become the aristocratic necropolis of Paris.  Sheltered by a bower of chestnut trees, the cemetery is in the shadow of the Eiffel Tower.  The retaining wall of the cemetery is adorned with a bas relief (by Louis Janthial) commemorating the soldiers who fell in the Great War.  Other notable final footprints as Passy include; Claude Debussy, Gabriel Faure, and Berthe Morisot.
Gallery
The Spanish Singer, Metropolitan Museum of Art, 1860

The Old Musician, National Gallery of Art, 1862

Mlle. Victorine in the Costume of a Matador, Metropolitan Museum of Art, 1862

The Dead Christ with Angels, 1864

Battle of the Kearsarge and the Alabama, Philadelphia Museum of Art, 1864. Inspired by the Battle of Cherbourg (1864)

Dead Matador, National Gallery of Art, 1864–1865

The Philosopher, (Beggar with Oysters), Art Institute of Chicago, 1864–1867

The Ragpicker, Norton Simon Museum, 1865-1870

Young Flautist, or The Fifer, Musée d'Orsay, 1866

Still Life with Melon and Peaches, National Gallery of Art, 1866

The Tragic Actor (Rouvière as Hamlet), National Gallery of Art, 1866

Woman with Parrot, Metropolitan Museum of Art, 1866

Portrait of Madame Brunet, J. Paul Getty Museum, 1867

Execution of Emperor Maximilian, 1868

Portrait of Émile Zola, Musée d'Orsay, 1868

Breakfast in the Studio (the Black Jacket), New Pinakothek, Munich, Germany, 1868

The Balcony, Musée d'Orsay, 1868–1869

Boating, Metropolitan Museum of Art, 1874

The grand canal of Venice (Blue Venice), Shelburne Museum, 1875

Madame Manet, Norton Simon Museum, 1874-1876

Portrait of Stéphane Mallarmé, Musée d'Orsay, 1876

The Rue Mosnier with Flags, J. Paul Getty Museum, 1878

The Plum, National Gallery of Art, 1878

In the Conservatory, National Gallery, Berlin, Germany, 1879

Chez le père Lathuille, 1879, Musée des Beaux-Arts Tournai

Bunch of Asparagus, 1880, Wallraf-Richartz Museum, Cologne, Germany

The Bugler, 1882, Dallas Museum of Art

House in Rueil, National Gallery of Victoria, Melbourne, Australia 1882

Garden Path in Rueil, Musée des Beaux-Arts de Dijon, 1882

Flowers in a Crystal Vase, National Gallery of Art, 1882

Carnations and Clematis in a Crystal Vase, Musée d'Orsay, 1883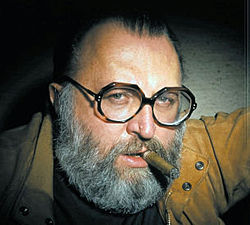 On this day in 1989, director, producer and screenwriter, Sergio Leone died from a heart attack in Rome at the age of 60.  Born on 3 January 1929 in Rome.  Best known as the director of three legendary, iconic westerns, often referred to as Spaghetti Westerns: A Fistful of Dollars (Per un pugno di dollari) (1964) with Clint Eastwood; For a Few Dollars More (Per qualche dollaro in più) (1965) with Eastwood and Lee Van Cleef; and The Good, the Bad and the Ugly (Il buono, il brutto, il cattivo) (1966) with Eastwood, Van Cleef and Eli Wallach.  The film score for all three movies was composed by Ennio Morricone.  Leone also directed Once Upon a Time in the West (C'era una volta il West) (1968) with Henry Fonda, Charles Bronson, Jason Robards and Claudia Cardinale; and Once Upon a Time in America (C'era una volta il America) (1984) with Robert De Niro.  All five of these movies are among my very favorites and I will stop what I am doing to watch them.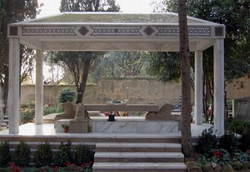 The Final Footprint – Leone is interred in a private estate in Cimitero di Pratica di Mare in Pratica di Mare, Lazio, Italy.
Have you planned yours yet?
Follow TFF on twitter @RIPTFF