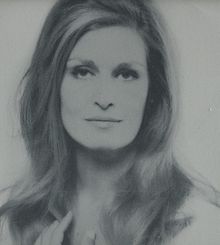 On this day in 1987, singer and actress Dalida, committed suicide by overdosing on barbiturates, in Paris.  She left behind a note which read, "La vie m'est insupportable… Pardonnez-moi." ("Life has become unbearable for me… Forgive me.")  Born Iolanda Cristina Gigliotti on 17 January 1933 in Cairo, Egypt.  Her family was from Serrastretta, Calabria, Italy, but lived in Egypt, where Dalida's father, Pietro Gigliotti, was first violinist (primo violino) at the Cairo Opera House.  Dalida performed and recorded in more than 10 languages including: French, Arabic, Italian, Greek, German, English, Japanese, Hebrew, Dutch and Spanish.  She received 55 gold records and was the first singer to receive a diamond record.  Renowned for the changes she brought to the French and global music industry with her powerful and colourful performances, she is today still remembered by fans throughout the world.  A 30-year career (she debuted in 1956 and recorded her last album in 1986, a few months before her death) and her death led to an iconic image as a tragic diva.  My favorite songs sung by Dalida include; "Bambino", "Gondolier", "Tu Me Donnes", and "Parole Parole".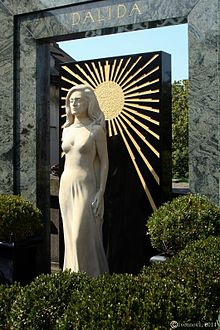 The Final Footprint – Dalida was interred in the Cimetière de Montmartre in Paris.  Other notable final footprints at Montmartre include composer Hector Berlioz, artist Edgar Degas, author Alexandre Dumas, fils, poet Théophile Gautier and composer Jacques Offenbach.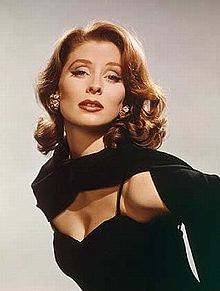 On this day in 2003, model and actress Suzy Parker died at her home in Montecito, California from kidney failure at the age of 70.  Born Cecilia Ann Renee Parker on 28 October 1932 in San Antonio, Texas.  One of the most recognizable faces of the 1950's, appearing on many magazine covers, advertisements, and in movies and television series.  Parker became the so-called signature face of the Coco Chanel brand.  Parker was married three times including; Pierre de la Salle (1958-1961 divorce) and actor Bradford Dillman (1963-2003 her death).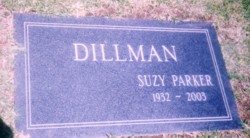 The Final Footprint – Parker is interred in Santa Barbara Cemetery, Santa Barbara, California.  Her grave is marked by a flat granite marker.  Other notable Final Footprints at Santa Barbara include actor Laurence Harvey, actor Fess Parker (no relation) and poet Kenneth Rexroth.
Have you planned yours yet?
Follow TFF on twitter @RIPTFF