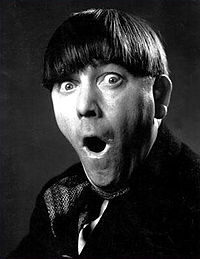 On this day in 1975, actor and comedian and Stooge, Moe Howard died of lung cancer in Los Angeles, California just shy of his 78th birthday.  Born Moses Harry Horwitz on 19 June 1897 in the Brownsville neighborhood of Brooklyn.  The leader of The Three Stooges, the classic comedy team who stared in motion pictures and television for four decades.  The original line up included Moe and his brother Shemp and Larry Fine.  When Shemp left in 1932 he was replaced by another brother, Jerome who took the stage name, Curly.  Shemp returned when Curly suffered a stroke in 1946.  On 22 November 1955, Shemp died of a heart attack and was replaced by Joe Besser.  Besser was eventually replaced by Joe DeRita who took the name Curly-Joe.  Moe was married to Helen Schonberger (1925-1975 his death).  He apparently was very romantic and wrote his wife hundreds of love poems.  My kinda guy!  The Three Stooges humour spans generations.  One of my sons is a fan. 
The Final Footprint – Howard is entombed in the Garden of Memories, Alcove of Love mausoleum at Hillside Memorial Park in Culver City, California.  His wife Helen was entombed next to him when she passed away in later that year.  Other notable Final Footprints at Hillside Memorial include; comedian Jack Benny, comedian Milton Berle, actress Cyd Charisse, actor Lorne Greene, entertainer Al Jolson, actor Michael Landon, lyricist Jerry Leiber, actress Suzanne Pleshette, entertainer Dinah Shore, and actress Shelley Winters.
Have you planned yours yet?
Follow TFF on twitter @RIPTFF