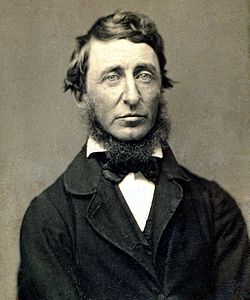 On this day in 1862,  author, poet, philosopher, abolitionist, naturalist, tax resister, development critic, surveyor, historian, and leading transcendentalist, Henry David Thoreau died from complications of tuberculosis at his home in Concord, Massachusetts at the age of 44.  Born David Henry Thoreau in Concord on 12 July 1817.  Perhaps best known for his book Walden, a reflection upon simple living in natural surroundings, and his essay Resistance to Civil Government (also known as Civil Disobedience), an argument for disobedience to an unjust state.  Thoreau's books, articles, essays, journals, and poetry total over 20 volumes.  His literary style interweaves close natural observation, personal experience, pointed rhetoric, symbolic meanings, and historical lore, while displaying a poetic sensibility, philosophical austerity, and "Yankee" love of practical detail.  He was also deeply interested in the idea of survival in the face of hostile elements, historical change, and natural decay; at the same time he advocated abandoning waste and illusion in order to discover life's true essential needs.  He was a lifelong abolitionist, delivering lectures that attacked the Fugitive Slave Law while praising the writings of Wendell Phillips and defending abolitionist John Brown.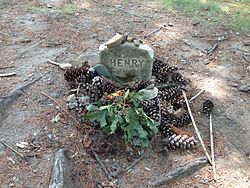 The Final Footprint –  Bronson Alcott planned the funeral service and read selections from Thoreau's works, and Ellery Channing presented a hymn.  Ralph Waldo Emerson wrote the eulogy spoken at his funeral.  Originally buried in the Dunbar family plot, he and members of his immediate family were eventually moved to Sleepy Hollow Cemetery in Concord.  Other notable final footprints at Sleepy Hollow include; Amos Bronson Alcott (Transcendentalist, philosopher, educator), Louisa May Alcott (author of Little Women and others), William Ellery Channing (Transcendentalist, poet), Ralph Waldo Emerson (Transcendentalist, essayist, lecturer, poet), and Nathaniel Hawthorne (author of The Scarlet Letter and others.)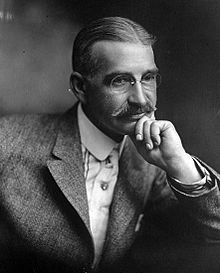 On this day in 1919, author L. Frank Baum died from a stroke in Hollywood at the age of 62.  Born Lyman Frank Baum on 15 May 1856 in Chittenango, New York.  Perhaps best known for writing The Wonderful Wizard of Oz.  He wrote 55 novels in total including thirteen Oz sequels, and nine other fantasy novels.  In his writings, he anticipated television, augmented reality, laptop computers (The Master Key), wireless telephones (Tik-Tok of Oz), women in high risk, action-heavy occupations (Mary Louise in the Country), and the ubiquity of advertising on clothing (Aunt Jane's Nieces at Work).  Baum married Maud Gage (1882 – 1919 his death).  They had four children.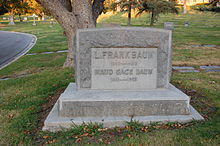 The Final Footprint– The day after his stroke, Baum slipped into a coma but briefly awoke and reportedly spoke his last words to his wife, "Now we can cross the Shifting Sands."  He was buried in Forest Lawn Memorial Park, Glendale, California.  Following early film treatments in 1910 and 1925 and Baum's own venture The Oz Film Manufacturing Company, Metro Goldwyn Mayer made the story into the now classic movie The Wizard of Oz (1939), starring Judy Garland as Dorothy Gale.  The film was given an all-a-dream ending which differs from the book.  A completely new Tony Award-winning Broadway musical with an African-American cast, The Wiz, was staged in 1975 with Stephanie Mills as Dorothy.  It was the basis for a 1978 film by the same title starring Diana Ross as an adult Dorothy and Michael Jackson as the Scarecrow.  The Wizard of Oz continues to inspire new versions, such as Disney's Return to Oz (1985), The Muppets' Wizard of Oz, Tin Man (a re-imagining of the story televised in late 2007 on the Sci Fi Channel), and a variety of animated productions.  Today's most successful Broadway show, Wicked, provides a backstory to the two Oz witches used in the classic MGM film.  Gregory Maguire, author of the novel, Wicked, on which the musical is based, chose to honor Baum by naming his main character Elphaba, a phonetic take on Baum's initials.  The film Oz the Great and Powerful (2013) serves as an homage to MGM's film, and stars James Franco, Mila Kunis, Rachel Weisz, and Michelle Williams.  Other notable Final Footprints at Forest Lawn Glendale include; Humphrey Bogart, Lon Chaney, Nat King Cole, Dorothy Dandridge, Sammy Davis, Jr., Jean Harlow, Sam Cooke, Walt Disney, Errol Flynn, Clark Gable, Michael Jackson, Carole Lombard, Casey Stengel, Jimmy Stewart, Elizabeth Taylor, and Spencer Tracy.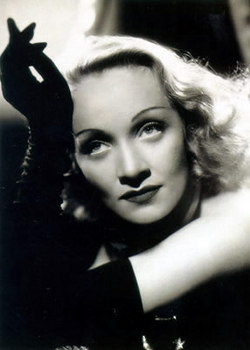 On this day in 1992, Oscar nominated actress and singer, Marlene Dietrich died of renal failure in Paris at the age of 90.  Born Maria Magdalene Dietrich on 27 December 1901 in Schöneberg, a district of Berlin, Germany.  She appeared in over 70 movies and was known for her galmour and her beauty.  She became a U. S. citizen in 1939.  Dietrich raised war bonds and performed in USO tours and was awarded the Presidential Medal of Freedom by the US in 1947.  She said that this was her proudest accomplishment.  She was also awarded the Légion d'honneur by the French government as recognition for her wartime work.  Dietrich married once to Rudolf Sieber (1897-1976 his death).  Dietrich allegedly had affairs with writer Erich Maria Remarque, Gary Cooper, Yul Brynner, George Bernard Shaw and John F. Kennedy.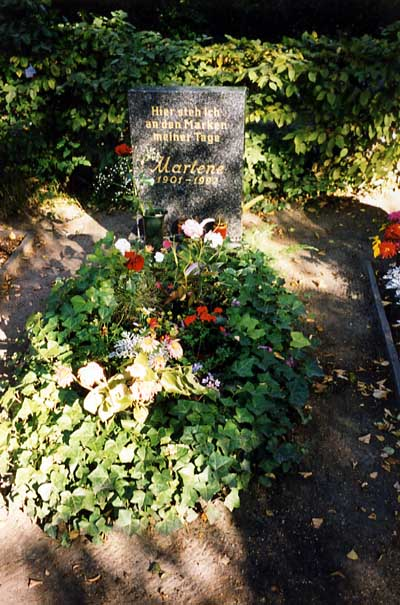 The Final Footprint –  Dietrich was interred at the Städtischer Friedhof III, Berlin-Schöneberg, Stubenrauchstraße 43–45, in Friedenau Cemetery, near her mother's grave and not far away from the house where she was born.  Her grave is marked with the inscription: "Hier steh ich an den Marken meiner Tage" (Here I stand at the mile-stone of my days), a paraphrased line from the sonnet Abschied vom Leben (Farewell from Life) by Theodor Korner.
Have you planned yours yet?
Follow TFF on twitter @RIPTFF