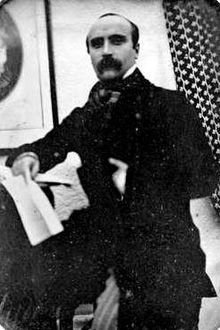 On this day in 1880, novelist Gustave Flaubert died in Croisset, France of a cerebral hemorrhage at the age of 58.  Born on 12 December 1821, in Rouen, in the Seine-Maritime department of Upper Normandy, in northern France.  In my opinion, one of the greatest novelists in Western literature.  He is known especially for his first published novel, Madame Bovary (1857), for his Correspondence, and for his scrupulous devotion to his style and aesthetics.  Flaubert was a notorious perfectionist and claimed always to be searching for le mot juste ("the precise word").  When it was first serialized in La Revue de Paris between 1 October 1856 and 15 December 1856, the novel was attacked for obscenity by public prosecutors.  The resulting trial, held in January 1857, made the story notorious.  After Flaubert's acquittal on 7 February 1857, Madame Bovary became a bestseller when it was published as a single volume in April 1857.  Flaubert's masterpiece is now considered a seminal work of realism and one of the most influential novels ever written.  From 1846 to 1854, Flaubert had a relationship with the poet Louise Colet; his letters to her survive.  Flaubert never married.  The Final Footprint – Flaubert is entombed in the Flaubert family vault in Rouen Cemetery, Rouen, France.  Madame Bovary has been adapted into five films with a sixth one due out in 2014.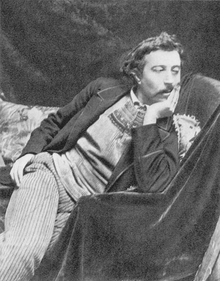 On this day in 1903, leading Post-Impressionist artist, Paul Gauguin died of syphilis in Atuona, Hiva 'Oa, Marquesas Islands, French Polynesia at the age of 54.  Born Eugène Henri Paul Gauguin on 7 June 1848 in Paris.  In my opinion, one of the most influential artists to ever live.  He married a Danish woman, Mette-Sophie Gad.  Gauguin was friends with Vincent van Gogh, with whom in 1888 he spent nine weeks painting in Arles.  He was also friends with Camille Pissarro and Paul Cézanne and painted with each of them.  He made several attempts to find a tropical paradise where he could 'live on fish and fruit' and paint in his increasingly primitive style and frolic with the nubile native girls (see the gallery below).  His travels took him to Martinique, the Panama Canal, Tahiti and the Marquesas Islands.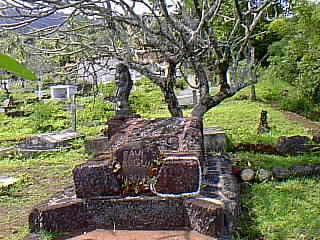 The Final Footprint – Gauguin is interred in Calvary Cemetery (Cimetière Calvaire), Atuona, Hiva 'Oa, Marquesas Islands, French Polynesia.  Gauguin's life inspired W. Somerset Maugham's novel The Moon and Sixpence.  Mario Vargas Llosa based his 2003 novel The Way to Paradise on Gauguin's life.  Gauguin is also the subject of at least two operas: Federico Elizalde's Paul Gauguin (1943); and Gauguin (a synthetic life) by Michael Smetanin and Alison Croggon.  Déodat de Séverac wrote his Elegy for piano in memory of Gauguin.
Have you planned yours yet?
Follow TFF on twitter @RIPTFF
Gallery
Portrait of Madame Gauguin, c. (1880-1881)

Garden in Vaugirard, or the Painter's Family in the Garden in Rue Carcel, (1881)

Still-Life with Fruit and Lemons, c. (1880)

The Swineherd, Brittany, (1888)

Vision After the Sermon (Jacob wrestling with the angel), (1888)

Night Café at Arles, (Mme Ginoux), (1888)

Still-Life with Japanese Woodcut, (1889)

Tahitian Women on the Beach, (1891)

Woman with a Flower, (1891)

The Moon and the Earth (Hina tefatou), (1893)

Annah, the Javanese, (1893)

Watermill in Pont-Aven, (1894)

Two Tahitian Women, (1899), oil on canvas,

Cruel Tales (Exotic Saying), (1902)

The Sorcerer of Hiva Oa , (1902)

Riders on the Beach, (1902)

Landscape on La Dominique (Hiva OAU), (1903)
Self-portrait, 1875-1877, Fogg Museum, Cambridge, Massachusetts

Self-portrait, 1889, National Gallery of Art, Washington, DC

Self-portrait, 1889-1890, Musée d'Orsay, Paris, France

Self-portrait, 1893, Musée d'Orsay

Self-Portrait, c. 1893, The Detroit Institute of Arts

Self-portrait, 1896, São Paulo Museum of Art

Self-Portrait (for my friend Daniel), 1896, Musée d'Orsay

Self Portrait, 1902, Kunstmuseum Basel

On this day in 2009,  journalist, sportswriter, novelist, biographer and screenwriter, Bud Shrake died at St. David's Hospital in Austin, of complications from lung cancer at the age of 77.  Born Edwin A. Shrake, Jr. in Fort Worth on 6 September 1931.  Shrake co-wrote a series of golfing advice books with legendary golf coach Harvey Penick, including Harvey Penick's Little Red Book, a golf guide that became the best-selling sports book in publishing history.  Called a "lion of Texas letters" by the Austin American-Statesman, Shrake was a member of the Texas Film Hall of Fame, and received the Lon Tinkle lifetime achievement award from the Texas Institute of Letters and the Texas Book Festival Bookend Award.  Shrake married twice and was Texas Governor Ann Richards' companion for 17 years, until her death in 2006.  As the "first gentleman of Texas," he escorted Richards to her inaugural ball and to other social events, and organized card games inside the Texas governor's mansion.  Shrake was raised in Fort Worth's Travis Avenue Baptist Church, but that did not stop him from obtaining ordination by the Universal Life Church and officiating at the wedding of friends such as writer Gary Cartwright.  The Final Footprint – The staff at the Austin Country Club lowered its club flag to half staff in recognition of Shrake's death.  At Shrake's funeral, Ray Benson sang Willie Nelson's "I Still Can't Believe You're Gone" while Nelson sang "Angel Flying Too Close to the Ground".  Cartwright called Shrake "my friend, compadre and mentor for 50 years. Every success I enjoyed owed directly or indirectly to Bud Shrake."  At the graveside service, Jerry Jeff Walker played two songs: Charles John Quarto and Shake Russell's "Dare of an Angel" and the Walter Donaldson and Gus Kahn standard "My Buddy."  Shrake's hearse bore the Mad Dog Productions sign in the back window.  Shrake is interred next to Richards in the Texas State Cemetery.  Other notable final footprints at Texas State Cemetery include; Stephen F. Austin, John B. Connally, Nellie Connally, J. Frank Dobie, Barbara Jordan, Tom Landry (cenotaph), James A. Michener (cenotaph), Ann Richards, Big Foot Wallace, and Walter Prescott Webb.