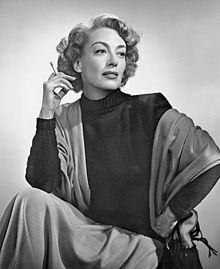 On this day in 1977, Academy Award winning actress, Joan Crawford died at her New York apartment from a heart attack at the age of 72.  Born Lucille Fay LeSueur on 23 March 1905 in San Antonio, Texas.  Crawford became one of Hollywood's most prominent movie stars and one of the highest paid women in the United States.  In 1931, she starred opposite Clark Gable in Possessed.  They began an affair during the production, that lasted for many years.  Crawford won her Oscar for the title role in Mildred Pierce (1945).  She was married four times; Douglas Fairbanks, Jr. (1929-1933 divorce), Franchot Tone (1935-1939 divorce), Phillip Terry (1942-1946 divorce) and Alfred Steele (1955-1959 his death). 
The Final Footprint – Crawford was cremated.  Her cremains were entombed in a crypt next to her husband, Alfred Steele, in the Ferncliff Mausoleum, Ferncliff Cemetery in Hartsdale, New York.  A funeral service was held at Frank E. Campbell Funeral Chapel (a Dignity Memorial property) in Manhattan.  Crawford's hand and footprints are immortalized in the forecourt of Grauman's Chinese Theater on Hollywood Boulevard in Hollywood.  She also has a star on the Hollywood Walk of Fame at 1750 Vine Street.  In NovembeRrer 1978, a year and a half after Crawford's death, her adopted daughter, Christina published Mommie Dearest, which contained allegations that Crawford was emotionally and physically abusive to Christina and her brother Christopher.  The book was made into a movie of the same name in 1981 with Faye Dunaway as Crawford.  Other notable funerals at Frank E. Campbell include; Aaliyah, Irving Berlin, Lord Buckley, James Cagney, Oleg Cassini, Montgomery Clift, Frank Costello, Malcolm Forbes, Greta Garbo, Judy Garland, George Gershwin, Jim Henson, Peter Jennings, Bat Masterson, Jacqueline Kennedy Onassis, Heath Ledger, John Lennon, Norman Mailer, Notorious B.I.G., Les Paul, Ayn Rand, Igor Stravinsky, Ed Sullivan, Arturo Toscanini, Rudolf Valentino, Luther Vandross and Tennessee Williams. Other notable Final Footprints at Ferncliff include:  Aaliyah, Oscar Hammerstein II, Jerome Kern, Thelonious Monk, and Ed Sullivan.  In addition, John Lennon and Nelson Rockefeller were cremated at Ferncliff.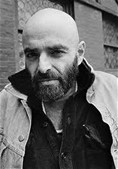 On this day in 1999, poet, singer-songwriter, cartoonist, screenwriter, and author of children's books, Shel Silverstein died from a heart attack in Key West at the age of 68.  Born Sheldon Allan Silverstein on 25
September 1932 in Chicago.  I remember him best for the songs he wrote including; "A Boy Named Sue", "Put Another Log on the Fire", "One's on the Way", "25 Minutes to Go", "The Cover of 'Rolling Stone'", "Freakin' at the Freakers' Ball," "Sylvia's Mother", "The Things I Didn't Say", "Rosalie's Good Eats Café", "The Mermaid", "The Winner", "Warm and Free" and "Tequila Sheila", he co-wrote with Baxter Taylor "Marie Laveau", "The Ballad of Lucy Jordan", and "Queen of the Silver Dollar". The Final Footprint – Silverstein is interred in Westlawn Cemetery in Norridge, Illinois.  Other notable final footprints at Westlawn include Jack Ruby and Gene Siskel.