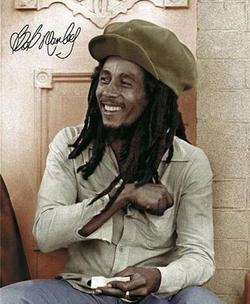 On this day in 1981, singer-songwriter and musician, Bob Marley died from cancer at Cedars of Lebanon Hospital in Miami (now University of Miami Hospital) at the age of 36.  Born Robert Nesta Marley on 6 February 1945 in the village of Nine Mile in Saint Ann Parish, Jamaica.
He was the rhythm guitarist and lead singer for the ska, rocksteady and reggae band Bob Marley & The Wailers (1963–1981).  Marley remains the most widely known and revered performer of reggae music, and is credited with helping spread both Jamaican music and the Rastafari movement to a worldwide audience.  His best-known hits include "I Shot the Sheriff", "No Woman, No Cry", "Could You Be Loved", "Stir It Up", "Jamming", "Redemption Song", "One Love" and, together with The Wailers, "Three Little Birds", as well as the posthumous releases "Buffalo Soldier" and "Iron Lion Zion".  The compilation album Legend (1984), released three years after his death, is reggae's best-selling album, going ten times Platinum (Diamond) in the U.S.  Marley was married once to Rita Constantia Anderson (1966-1981 his death).  Marley has evolved into a global symbol, which has been endlessly merchandised through a variety of mediums.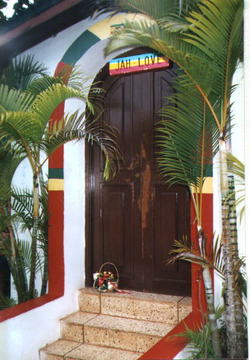 The Final Footprint – Marley is entombed, either with his red Gibson Les Paul or with a Fender Stratocaster, in the Bob Marley Mausoleum in Nine Mile, Saint Ann, Jamaica.  Marley received a state funeral in Jamaica on 21 May 1981, which combined elements of Ethiopian Orthodoxy and Rastafari tradition.
Have you planned yours yet?
Follow TFF on twitter @RIPTFF