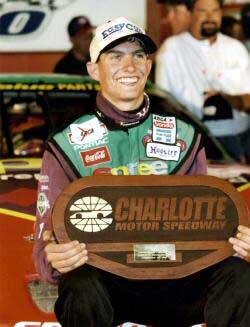 On this day in 2000, professional racing driver, great-grandson of Lee Petty, grandson of Richard Petty, son of Kyle Petty, Adam Petty died when his Busch series car crashed during a practice run at New Hampshire Motor Speedway in Loudon, New Hampshire, at the age of 19.  Born Adam Kyler Petty on 10 July 1980 and raised in High Point, North Carolina.
The Final Footprint – Adam was cremated and his cremains were returned to his family.  In October 2000 five months after Adam's death, his family partnered with Paul Newman and the Hole in the Wall Gang Camp to begin the Victory Junction Gang Camp, a camp for terminally and chronically ill children, in Randleman, North Carolina, as a memorial to Adam.  The camp has received support from many NASCAR drivers, teams, and sponsors, including Cup Series sponsor Sprint, which has placed a replica of Adam's 1998 car in the camp.  The Victory Junction Gang camp began operation in 2004, and is an official charity of NASCAR.  I have been fortunate enough to spend a weekend at Victory Junction.  Enough good things cannot be said about this wonderful place and what it means to the kids and families who visit.  Thank you to the Petty family and all those involved in creating and maintaining VJ.  More importantly, thank you Adam.
Have you planned yours yet?
Follow TFF on twitter @RIPTFF