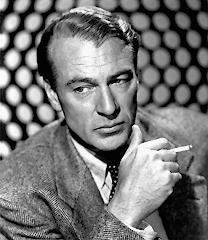 On this day in 1961, Academy Award-winning actor, Coop, Gary Cooper died from cancer in Los Angeles at the age of 60.  Born Frank James Cooper on 7 May 1901 in Helena, Montana.  His career comprised more than a 100 films.  My favorite movies with Cooper include; as Will Cane in High Noon (1952) with Grace Kelly, as Lou Gehrig in The Pride of the Yankees (1942), as Robert Jordan in the film adaptation of Ernest Hemingway's For Whom the Bell Tolls (1943) with Ingrid Bergman, as Howard Roark in the film adaptation of Ayn Rand's The Fountainhead (1949) and as Frank Flannagan in Love in the Afternoon (1957) with Audrey Hepburn.  Cooper married once; Veronica "Rocky" Balfe (1933-1961 his death).  Cooper allegedly had affairs with famous co-stars Marlene Dietrich, Kelly and Patricia Neal.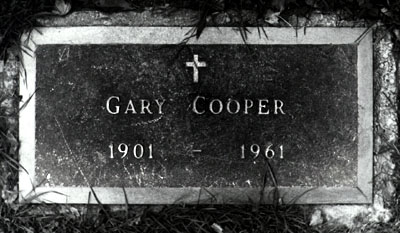 The Final Footprint – Cooper was initially interred in the Grotto Section of Holy Cross Catholic Cemetery in Culver City, California.  In May 1974 his body was removed from Holy Cross Cemetery, when his widow Veronica remarried and moved to New York, and relocated to Sacred Heart Cemetery, in Southampton, New York, on Long Island.  His grave is marked by an individual bronze marker.  Veronica was buried next to him when she died in 2000.  For his contribution to the film industry, Cooper has a star on the Hollywood Walk of Fame at 6243 Hollywood Blvd.  In 1966, he was inducted into the Western Performers Hall of Fame at the National Cowboy & Western Heritage Museum in Oklahoma City, Oklahoma.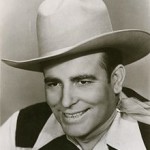 On this day in 1975, musician, songwriter, and bandleader of the Texas Playboys; co-founder of Western Swing, the King of Western Swing, Bob Wills died in Fort Worth, Texas at the age of 70 from a stroke.  Born James Robert Wills on a farm near Kosse, Texas on 6 March 1905.  Wills formed several bands and played radio stations around the South and West until he formed the Texas Playboys in 1934 with Wills on fiddle, Tommy Duncan on piano and vocals, rhythm guitarist June Whalin, tenor banjoist Johnnie Lee Wills (his brother), and Kermit Whalin, who played steel guitar and bass, later adding Leon McAuliffe on steel guitar, pianist Al Stricklin, drummer Smokey Dacus, and a horn section that expanded the band's sound.  Wills favored jazz-like arrangements and the band found national popularity into the 1940s with such hits as "Steel Guitar Rag", "New San Antonio Rose", "Smoke on the Water", "Stars and Stripes on Iwo Jima", and "New Spanish Two Step".  In 1950, he had two top ten hits, "Ida Red Likes the Boogie" and "Faded Love".  The Country Music Hall of Fame inducted Wills in 1968 and the Texas State Legislature honored him for his contribution to American music.  In 1972, Wills accepted a citation from the American Society of Composers, Authors and Publishers in Nashville.  He was recording an album with Merle Haggard in 1973 when a stroke left him comatose until his death in 1975.  The Rock and Roll Hall of Fame inducted Wills and the Texas Playboys in 1999.  I love to hear Bob holler.  The Final Footprint – Wills is interred in Memorial Park Cemetery in Tulsa, Oklahoma.  His grave is marked by a flat bronze on granite marker.
Have you planned yours yet?
Follow TFF on twitter @RIPPTFF