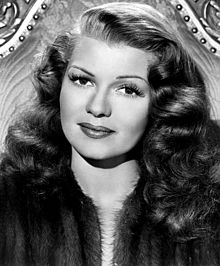 On this day in 1987, dancer and actress, beauty icon, Rita Hayworth died from complications of Alzheimer's disease at the age of 68 in New York City.  Born Margarita Carmen Cansino on 17 October 1918 in Brooklyn.  Hayworth achieved fame during the 1940s as one of the era's top stars.  Appearing first as Rita Cansino, she agreed to change her name to Rita Hayworth and her natural dark brown hair color to dark red to attract a greater range of roles.  Her appeal led to her being featured on the cover of Life magazine five times, beginning in 1940.  She appeared in a total of 61 films over 37 years.  Hayworth married five times, apparently none of them happily; Edward C. Judson (1937–1942 divorce), Orson Welles
(1943–1948 divorce), Prince Aly Khan (1949–1953 divorce), Dick Haymes (1953–1955 divorce), James Hill (1958–1961 divorce).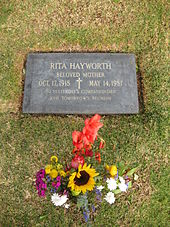 The Final Footprint – A funeral service was held on 19 May 1987, at the Church of the Good Shepherd in Beverly Hills.  Pallbearers included actors Ricardo Montalbán, Glenn Ford, Don Ameche, agent Budd Burton Moss, and the choreographer Hermes Pan.  She was interred in Holy Cross Cemetery, Culver City.  Her headstone includes the inscription: "To yesterday's companionship and tomorrow's reunion."  Hayworth's pin-up poster is portrayed in Stephen King's novella Rita Hayworth and Shawshank Redemption (1982), and was later brought to the screen in the film The Shawshank Redemption (1994) directed by Frank Darabont (which itself features a video clip of Hayworth in Gilda, shown as a film the prisoners are watching).  Other notable final footprints at Holy Cross include; actor John Candy, Bing Crosby, Jimmy Durante, John Ford, the voice of the Los Angeles Lakers Chick Hearn, Bela Lugosi, Al Martino, actress Audrey Meadows, Ricardo Montalbán, actor Chris Penn, singer Jo Stafford and Sharon Tate.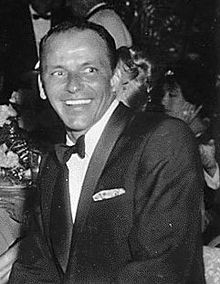 On this day in 1998, legendary and iconic singer and actor; Academy Award winner, Grammy Award winner, producer, director, conductor, member of the Rat Pack, Ol' Blue Eyes, The Chairman of the Board, The Voice, Frankie, Frank Sinatra died at 10:50 P.M. on a Thursday at the Cedars-Sinai Medical Center, with his wife Barbara by his side, at the age of 82.  Born Francis Albert Sinatra on 12 December 1915 in Hoboken, New Jersey.  Oh my, where to begin.  This could take awhile.  Sinatra is perhaps my favorite entertainer.
Sinatra was the only child of Italian immigrants Natalie Della "Dolly" Garaventa and Antonino Martino "Marty" Sinatra and was raised Catholic.  His mother was from Northern Italy and his father was Sicilian.  He left high school without graduating.
Sinatra began his musical career in the swing era first with bandleader Harry James and then with bandleader Tommy Dorsey.  Sinatra became unhappy with his contract with Dorsey which awarded Dorsey one-third of Sinatra's lifetime earnings from entertainment.  Dorsey let Sinatra out of his contract which sparked rumours of Sinatra's involment with the Mafia.  A newspaper reported that Chicago mob boss, Sam Giancana coerced Dorsey.  The incident was later fictionalized in Mario Puzo's The Godfather.  Sinatra went on to become a successful solo artist in the early to mid-1940s, becoming the idol of the "bobby soxers".  His career had stalled by the 1950s, but it was reborn in 1954 after he won the Academy Award for Best Supporting Actor (for his performance as Private Angelo Maggio in From Here to Eternity (1953).  This incident was later fictionalized in The Godfather as well.  Sinatra received an Oscar nomination for Best Actor for his role as Frankie Machine in The Man with the Golden Arm (1955), and he recevied critical acclaim for his performance as Captain Bennett Marco in The Manchurian Candidate.
Sinatra was an original member of the Holmby Hills Rat Pack along with, Judy Garland, Lauren Bacall, Sid Luft, Humphrey Bogart, Swifty Lazar, Nathaniel Benchley, David Niven, Katharine Hepburn, Spencer Tracy, George Cukor, Cary Grant, Rex Harrison, and Jimmy Van Heusen.  The 1960's version of the Rat Pack included Sinatra, Dean Martin, Sammy Davis, Jr., Joey Bishop, and Peter Lawford.  Reportedly Marilyn Monroe, Angie Dickinson, Juliet Prowse, and Shirley MacLaine were often referred to as the "Rat Pack Mascots".  This version of the Rat Pack did not use that term to describe themselves.  They referred to the group as The Summit or The Clan.
My favorite Sinatra albums include; In the Wee Small Hours, Songs for Swingin' Lovers, Come Fly with Me, Only the Lonely and Nice 'n' Easy, Ring-A-Ding-Ding, Sinatra at the Sands, Francis Albert Sinatra & Antonio Carlos Jobim, and September of My Years.  Sinatra was honored at the Kennedy Center Honors in 1983 and was awarded the Presidential Medal of Freedom by Ronald Reagan in 1985 and the Congressional Gold Medal in 1997.  Sinatra was also the recipient of eleven Grammy Awards, including the Grammy Trustees Award, Grammy Legend Award and the Grammy Lifetime Achievement Award.  Sinatra was married four times:  Nancy Barbato (1939-1951 divorce), Ava Gardner (1951-1957 divorce), Mia Farrow (1966-1968 divorce, and Barbara Blakeley Marx (1976-1998 his death).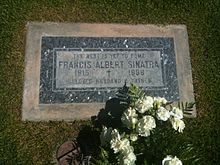 The Final Footprint – Sinatra is interred in Desert Memorial Park, Cathedral City, California.  His grave is marked with an individual engraved flat granite marker.  The inscription reads:  THE BEST IS YET TO COME and the term of endearment BELOVED HUSBAND AND FATHER.
Have you planned yours yet?