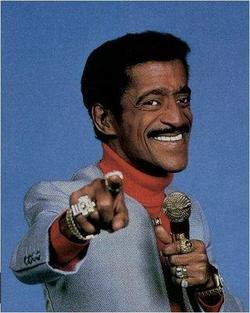 On this day in 1990, entertainer, singer, dancer, actor, member of the Rat Pack, Sammy Davis, Jr. died in Beverly Hills from throat cancer at the age of 64.  Born Samuel George Davis, Jr. on 8 December 1925 in Harlem.  Davis converted to Judaism in 1955.  In 1959, he became a member of the famous "Rat Pack", led by his friend Frank Sinatra, which included Dean Martin, Joey Bishop and Peter Lawford.  Davis dated actress Kim Novak before his first marriage.  He married three times:  Loray White (1958-1959 divorce), May Britt (1960-1968 divorce) and Altovise Gore (1970-1990 his death).  Davis was awarded the Spingarn Medal by the NAACP, and was nominated for a Golden Globe and an Emmy Award for his television performances.  He was the recipient of the Kennedy Center Honors in 1987, and in 2001, he was posthumously awarded the Grammy Lifetime Achievement Award.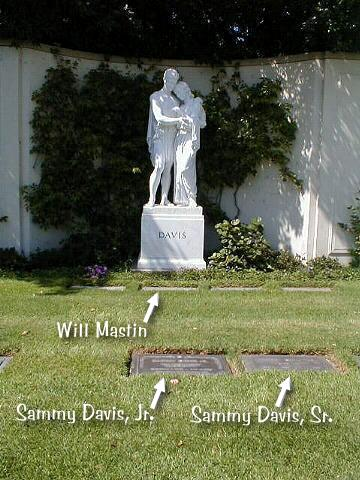 The Final Footprint – Davis is interred in Forest Lawn Memorial Park, Glendale, California.  His grave is marked by a flat bronze individual marker with the inscription "THE ENTERTAINER" HE DID IT ALL and YOUR LOVING WIFE ALTOVISE AND FATHER OF TRACEY, MARK, JEFF, MANNY.  A nearby white marble statue has the name DAVIS engraved at the bottom.  Other notable Final Footprints at Forest Lawn Glendale include; L. Frank Baum, Humphrey Bogart, Lon Chaney, Nat King Cole, Dorothy Dandridge, Jean Harlow, Sam Cooke, Walt Disney, Errol Flynn, Clark Gable, Michael Jackson, Carole Lombard, Casey Stengel, Jimmy Stewart, Elizabeth Taylor, and Spencer Tracy.
Have you planned yours yet?
Follow TFF on twitter @RIPTFF