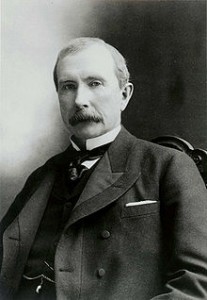 On this day in 1937, oil magnate, investor, philanthropist, founder of the Standard Oil Company, the University of Chicago and Rockefeller University, John Davison Rockefeller died of arteriosclerosis at the Casements, his home in Ormond Beach, Florida at the age of 97.  Born on 8 July 1839 in Richford, New York.  He rose from his first job as an assistant bookkeeper to become perhaps the richest person who ever lived.  Rockefeller revolutionized the petroleum industry and defined the structure of modern philanthropy.  In 1911, the Supreme Court of the United States found Standard Oil Company of New Jersey in violation of the Sherman Antitrust Act.  As a result of the ruling Standard Oil was broken up into 34 new companies which included: Continental Oil, which became Conoco, now part of ConocoPhillips; Standard of Indiana, which became Amoco, now part of BP; Standard of California, which became Chevron; Standard of New Jersey, which became Esso (and later, Exxon), now part of ExxonMobil; Standard of New York, which became Mobil, now part of ExxonMobil; and Standard of Ohio, which became Sohio, now part of BP.  Rockefeller married Laura Celestia "Cettie" Spelman (1864-1915 her death).  The Rockefeller wealth, distributed through the foundations and trusts, continued to fund family philanthropic, commercial, and political aspirations throughout the 20th century.  Grandson David Rockefeller was a leading New York banker, serving for over 20 years as CEO of Chase Manhattan (now part of JPMorgan Chase).  Another grandson, Nelson A. Rockefeller, was Republican governor of New York and the 41st Vice President of the United States.  A third grandson, Winthrop Rockefeller, served as Republican Governor of Arkansas. Great-grandson, John D. "Jay" Rockefeller IV is currently a Democratic Senator from West Virginia and a former governor of West Virginia, and another, Winthrop Paul Rockefeller, served ten years as Lieutenant Governor of Arkansas.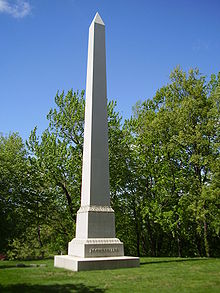 The Final Footprint – Rockefeller is interred next to his wife in the Rockefeller estate in Lake View Cemetery (known locally as Cleveland's outdoor museum) in Cleveland, Ohio.   The estate is marked by the Rockefeller Obelisk.  His grave is marked by an individual upright stone marker.  Other notable Final Footprints at Lake View include; 20th President of the United States, James A. Garfield; member of The Untouchables, Eliot Ness and writer, producer, narrator Rod Serling.
Have you planned yours yet?
Follow TFF on twitter @RIPTFF