On this day, 24 May the deaths of; David I King of Scots (1153), famed beauty Jane Leveson-Gower Hyde (1725), Scottish golfer and four-time Open Champion Old Tom Morris (1908), bluesman and The King of the Slide Guitar Elmore James (1963), and …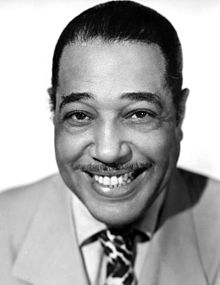 On this day in 1974, Grammy award-winning composer, pianist and big band leader, Duke Ellington died of lung cancer in New York City at the age of 75.  Born Edward Kennedy Ellington on 29 April 1899 in Washington, D. C.  In my opinion, one of the most prominent figures in jazz and one of the greatest composers.  His music spanned other genres including blues, gospel, film scores, popular and classical.  Ellington was married to Edna Thompson.  Ellington was awarded the NAACP Springarn Medal, the Presidential Medal of Freedom by Richard Nixon, and The French Legion of Honor.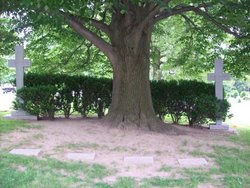 The Final Footprint – Ellington is interred in the Ellington private estate in Woodlawn Cemetery in The Bronx.  The estate is marked by two large granite crosses flanking a large tree.  One of the crosses has the inscription; THE LORD IS MY SHEPHERD.  His grave is marked by a flat granite marker.  Ella Fitzgerald said,  "It's a very sad day. A genius has passed."  Numerous memorials have been dedicated to Duke Ellington, in cities from New York (The Essentially Ellington High School Jazz Band Competition and Festival, Duke Ellington Boulevard and Duke Ellington Circle) and Washington, D. C. (The Duke Ellington School of Arts and Duke Ellington Bridge) to Los Angeles (a statue at the entrance to UCLA's Schoenberg Hall).  Many songs and albums have been written and dedicated to Ellington.  My favorite tribute song is Stevie Wonder's "Sir Duke".  Ellington was posthumously awarded a Pulitzer Prize Special Citation.  Other notable Final Footprints at Woodlawn include; Irving Berlin, Miles Davis, Lionel Hampton, Fiorello La Guardia, Rowland Macy, Bat Masterson, Herman Melville, J. C. Penney, and Joseph Pulitzer.
Have you planned yours yet?
Follow TFF on twitter @RIPTFF