On this day in 1085, Pope Gregory VII died in exile in Salerno; the epitaph on Gregory VII's sarcophagus in the city's Cathedral says: "I have loved justice and hated iniquity; therefore, I die in exile."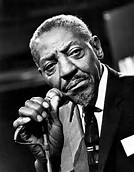 On this day in 1965, blues harmonica player, singer and songwriter Sonny Boy Williamson II died of an apparent heart attack suffered in his sleep in Helena, Arkansas at the age of 53.  Born Alex Ford (pronounced "Aleck") on the Sara Jones Plantation in Tallahatchie County, Mississippi, possibly on 5 December 1899.  He was an early and influential blues harp stylist who recorded successfully in the 1950s and 1960s.  Miller used a variety of names, including Rice Miller and Little Boy Blue, before settling on Sonny Boy Williamson, which was also the name of a popular Chicago blues singer and harmonica player.  Later, to distinguish the two, Miller became widely known as Sonny Boy Williamson II.  He first recorded with Elmore James on "Dust My Broom" and some of his popular songs include "Don't Start Me Talkin'", "Help Me", "Checkin' Up on My Baby", and "Bring It On Home".  He toured Europe with the American Folk Blues Festival and recorded with English rock musicians, including the Yardbirds, the Animals, and Jimmy Page. "Help Me" became a blues standard and many blues and rock artists have recorded his songs.  The Final Footprint – Williamson is buried on New Africa Road, just outside Tutwiler, Mississippi at the site of the former Whitman Chapel cemetery.  His headstone was provided by Mrs. Lillian McMurry, owner of Trumpet Records; the death date shown on the stone is incorrect.
On this day in 1981, operatic soprano, Rosa Ponselle died  at her estate, Villa Pace, near Baltimore, Maryland after a long battle with bone marrow cancer at the age of 84.  Born Rosa Ponzillo on 22 January 1897 in Meriden, Connecticut to Italian Neopolitan immigrants.  She sang mainly at the New York Metropolitan Opera.  In my opinion, she is one of the greatest sopranos.  Ponselle made her Metropolitan Opera debut on 15 November 1918, as Leonora in Verdi's La forza del destino, opposite Enrico Caruso.  Her roles included; Mathilde in Rossini's William Tell, Leonora in Verdi's Il trovatore, Aida in Verdi's Aida, Gioconda in Ponchielli's La Gioconda, Elisabeth of Valois in Verdi's Don Carlo, Norma in Bellini's Norma, Violetta in Verdi's La traviata, Donna Anna in Mozart's Don Giovanni, and Carmen in Bizet's Carmen.  Ponselle was married to Carle Jackson (1936-1949 divorce).  Luciano Pavarotti called Ponselle, "The Queen of Queens in all of singing."  Maria Callas said Ponselle was, "The greatest singer of us all."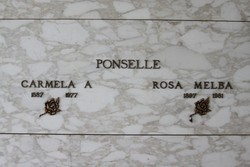 The Final Footprint – Ponselle in entombed in a tandem crypt with her sister, Carmela, in the mausoleum at Druid Ridge Cemetery in Pikesville, Maryland.
Have you planned yours yet?
Follow TFF on twitter @RIPTFF