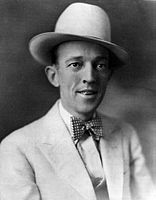 On this day in 1933, songwriter, country music pioneer and superstar, The Singing Brakeman, The Blue Yodeler, The Father of Country Music, Jimmie Rodgers, died at the Taft Hotel in New York City from tuberculosis at the age of 35.  Born James Charles Rodgers on 8 September 1987 in either Meridien, Mississippi or Geiger, Alabama.  Rodgers was one of the first three inductees into the Country Music Hall of Fame, along with Fred Rose and Hank Williams.  Numerous artists have recorded tribute albums or his songs including; Gene Autry, Merle Haggard, Hank Snow, Lefty Frizzell, Bob Dylan, Bono, Alison Krauss & Union Station, Jerry Garcia, Dickey Betts, Dwight Yoakam, Aaron Neville, John Mellencamp, Willie Nelson, Lynyrd Skynyrd, Jerry Lee Lewis and Tompall Glaser.  Rodgers reportedly influenced other artists including; Elvis, Muddy Waters, Big Bill Broonzy, Howlin' Wolf, and Mississippi John Hurt.  Of course, my favorite Rodgers song is "Blue Yodel" better known as "T for Texas".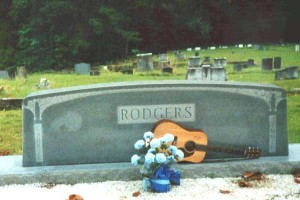 The Final Footprint – Rodgers is interred in the Rodgers family plot in Oak Grove Baptist Church Cemetery in Meridian, Mississippi.  The family plot is marked by a large upright granite marker.  His grave is marked by an individual raised granite marker.
Have you planned yours yet?
Follow TFF on twitter @RIPTFF