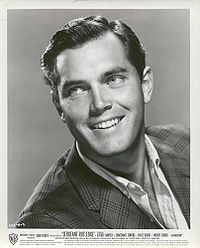 On this day in 1969, actor Jeffrey Hunter died from a cerebral hemorrhage in Los Angeles at the age of 42.  Born Henry Herman McKinnies, Jr. on 25 November 1926 in New Orleans.  Hunter was cast as Martin Pawley in perhaps my all-time favorite movie, The Searchers (1956).  The movie was directed by John Ford and starred John Wayne as Ethan Edwards and also featured; Vera Miles as Laurie Jorgensen, Ward Bond as Rev. Capt. Samuel Johnson Clayton, Natalie Wood as Debbie Edwards (older), and Ken Curtis as Charlie McCorry.  The appeal of this movie spans generations; my oldest son is a fan.  Hunter is also revered among Star Trek fans, myslef included.  He accepted the lead role of Captain Christopher Pike in "The Cage", the first pilot episode of Star Trek.  Hunter declined to film a second Star Trek pilot requested by NBC in 1965.  Hunter was married three times; Barbara Rush (1950-1955 divorce), Joan Bartlett (1957-1967 divorce) and Emily McLaughlin (1969-1969 his death).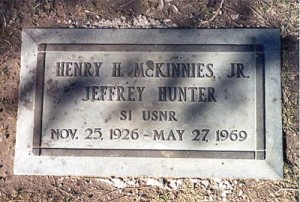 The Final Footprint – Hunter is interred in Glen Haven Memorial Park in Sylmar, California.  His grave is marked by an individual flat bronze marker.  His wife Emily, who played nurse Jessie Brewer on the soap opera General Hospital, was interred next to him following her death in 1991.
Have you planned yours yet?
Follow TFF on twitter @RIPTFF