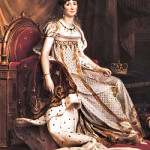 On this day in 1814, first wife of Napoléon Bonaparte, and thus the first Empress of the French, Joséphine de Beauharnais died of pneumonia in Rueil-Malmaison, four days after catching cold during a walk with Tsar Alexander in the gardens of Malmaison, at the age of 50.  Born Marie Josèphe Rose Tascher de La Pagerie in Les Trois-Îlets, Martinique to a wealthy white Creole family that owned a sugar plantation.  Her first husband Alexandre de Beauharnais was guillotined during the Reign of Terror, and she was imprisoned in the Carmes prison until her release five days after Alexandre's execution.  Through her daughter, Hortense, she was the maternal grandmother of Napoléon III. Through her son, Eugène, she was the great-grandmother of later Swedish and Danish kings and queens.  The reigning houses of Belgium, Norway and Luxembourg also descend from her.  She did not bear Napoleon any children; as a result, he divorced her in 1810 to marry Marie Louise of Austria.  Joséphine was the recipient of numerous love letters written by Napoleon, many of which still exist.  Her Château de Malmaison was noted for its magnificent rose garden, which she supervised closely, owing to her passionate interest in roses, collected from all over the world.  The Final Footprint – She was buried at the church of Saint Pierre-Saint Paul in Rueil.  Her daughter Hortense is interred near her.  Napoleon learned of her death via a French journal while in exile on Elba, and reportedly stayed locked in his room for two days, refusing to see anyone.  He claimed to a friend, while in exile on Saint Helena, that "I truly loved my Joséphine, but I did not respect her."  Despite his numerous affairs, eventual divorce, and remarriage, the Emperor's last words on his death bed at St. Helena were: "France, the Army, the Head of the Army, Joséphine."("France, l'armée, tête d'armée, Joséphine").
On this day in 2008, actor Harvey Korman died at the age of 81 on May 29, 2008, at UCLA Medical Center as the result of complications from a ruptured abdominal aortic aneurysm he had suffered four months previously.  He was buried at Santa Monica's Woodlawn Cemetery.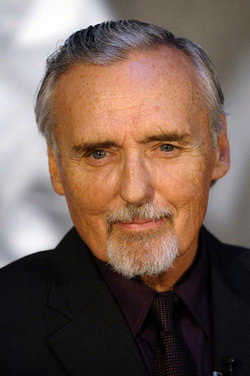 On this day in 2010, actor, screenwriter, director and photographer, Dennis Hopper, died at his home in the coastal Los Angeles district of Venice at the age of 74 from prostate cancer.  Born Dennis Lee Hopper on 17 May 1936 in Dodge City, Kansas.  He appeared in an impressive list of great, even iconic movies, including: as a goon in Rebel without a Cause (1955) starring James Dean; as Jordan Benedict III in Edna Ferber's Giant (1956) with Rock Hudson, Elizabeth Taylor and James Dean; as Dave Hastings in The Sons of Katie Elder (1965) with John Wayne and Dean Martin; as Babalugats in Cool Hand Luke (1967) with Paul Newman, Strother Martin and George Kennedy; as the Prophet in Hang 'em High (1968) with Clint Eastwood; as Billy in Easy Rider (1969) which he directed and co-wrote with Peter Fonda and Terry Southern and which he starred in with Fonda and Jack Nicholson; as Moon in True Grit (1969) with John Wayne, Glen Campbell, Kim Darby, Robert Duvall and Strother Martin; as a photojournalist in Francis Ford Coppola's adaptation of Joseph Conrad's novel Heart of Darkness (1902),  Apocalypse Now (1979) with Marlon Brando, Martin Sheen and Robert Duvall; as Frank Booth in David Lynch's Blue Velvet (1986) with Kyle MacLachlan and Isabella Rossellini; as Shooter in Hoosiers (1986) with Gene Hackman; as Lyle from Dallas in Red Rock West (1993) with Nicholas Cage and Lara Flynn Boyle; as Clifford Worley in True Romance (1993) which was written by Quentin Tarrantino and featured Christian Slater, Patricia Arquette, Val Kilmer, Gary Oldman, Brad Pitt and Christopher Walken; as Howard Payne in Speed (1994) with Sandra Bullock and Keanu Reeves.  Hopper was married five times; Brooke Hayward (1961-1969 divorce), Michelle Phillips (1970-1970 divorce), Daria Halprin (1972-1976 divorce), Katherine LaNasa (1989-1992 divorce), Victoria Duffy (1996-2010 separated).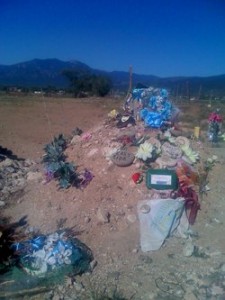 The Final Footprint – Hopper's funeral took place on 3 June 2010 at San Francisco de Asis Mission Church in Ranchos de Taos, New Mexico.  He is interred in Jesus Nazareno Cemetery in Ranchos de Taos.  His grave is marked by a burial mound where various momentos have been left in his honor.  As someone who has spent some time in Ranchos de Taos, this is one of the special places in America and it is easy to understand why Hopper chose this for his final footprint.  It is enchanting.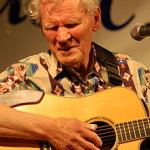 On this day in 2012, guitarist, songwriter and singer, 7x Grammy Award winner, Doc Watson died at Wake Forest Baptist Medical Center in Winston-Salem, North Carolina at the age of 89.  Born Arthel Lane "Doc" Watson on 3 March 1923 in Deep Gap, North Carolina.  He was predeceased by his son Merle who died in a tractor accident at their farm.  One of my favorite Guy Clark songs, "Dublin Blues", has a line that pays tribute to Watson:
I have seen the David
I've seen the Mona Lisa too
And I have heard Doc Watson
Play Columbus Stockade Blues 
The Final Footprint – Doc and Merle are interred at the Merle and Doc Watson Memorial Cemetery in Deep Gap, North Carolina.
Have you planned yours yet?
Follow TFF on twitter @RIPTFF