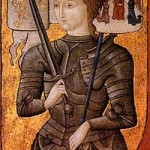 On this day in 1431, peasant girl, national heroine of France, Catholic saint, The Maid of Orléans, Saint Joan of Arc was executed by burning in Rouen, France at the age of 19.  Born around the year 1412 in Domrémy, a village which was then in the duchy of Bar (later annexed to the province of Lorraine and renamed Domrémy-la-Pucelle).
Joan claimed divine guidance and led the French army to several important victories during the Hundred Years' War, which paved the way for the coronation of Charles VII.  She asserted that she had visions from God that instructed her to recover her homeland from English domination.  The uncrowned Charles VII sent her to the siege of Orléans as part of a relief mission.  She gained prominence when she overcame the dismissive attitude of veteran commanders and lifted the siege in only nine days.  Several more swift victories led to Charles VII's coronation at Reims and settled the disputed succession to the throne.  She was captured by the Burgundians, sold to the English, tried and sentenced by an ecclesiastical court.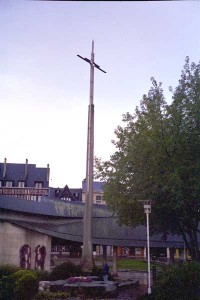 The Final Footprint – Joan's ashes were cast into the Seine.  A monument in Rouen dedicated to her is inscribed with the words of André Malraux: "O Jeanne, without sepulchre, without portrait, you know that the tomb of heroes is the heart of the living."  A statue in her honor was erected in the Notre Dame de Paris Cathedral, interior.  Twenty-five years after the execution, Pope Callixtus III examined the trial, pronounced her innocent and declared her a martyr.  Joan of Arc was beatified in 1909 and canonized in 1920.   She is one of the patron saints of France, along with St. Denis, St. Martin of Tours, St. Louis IX, and St. Theresa of Lisieux.
Down to the present day, Joan of Arc has remained a significant figure in Western culture.  From Napoleon onward, French politicians of all leanings have invoked her memory.  Writers and composers who have created works about her include: Shakespeare (Henry VI, Part 1), Voltaire (see below) (The Maid of Orleans poem), Schiller (The Maid of Orleans play), Verdi (Giovanna d'Arco), Tchaikovsky (The Maid of Orleans opera), Mark Twain (Personal Recollections of Joan of Arc), and George Bernard Shaw.  Depictions of her continue in film, theatre, television, video games, music and performance.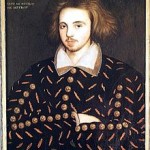 On this day in 1593, English dramatist, poet, translator of the Elizabethan era, and the foremost Elizabethan tragedian until his mysterious early death, Christopher Marlowe died in Deptford, England at the age of 29.  The Final Footprint – Marlowe was buried in an unmarked grave in the churchyard of St. Nicholas, Deptford.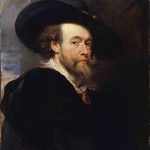 On this day in 1640, Flemish Baroque painter, and a proponent of an extravagant Baroque style that emphasised movement, colour, and sensuality, Pieter Paul Rubens died in Antwerp at the age of 62 from heart failure, which was a result of his chronic gout on 30 May 1640.  The Final Footprint – Rubens was interred in Saint Jacob's church, Antwerp.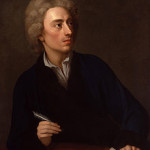 On this day in 1744, English poet, best known for his satirical verse and for his translation of Homer and for his use of the heroic couplet, Alexander Pope died at the age of 56 in his villa in Twickenham surrounded by friends.  The Final Footprint – He lies buried in the nave of the Church of St Mary the Virgin in Twickenham.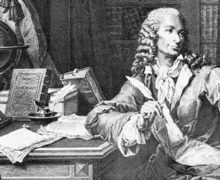 On this day in 1778, French Enlightenment writer, historian and philosopher famous for his wit and for his advocacy of civil liberties, including freedom of religion, freedom of expression, free trade and separation of church and state, Voltaire died in Paris at the age of 83.  Born François-Marie Arouet in Paris either on 21 November 1694 or 20 February 1694.  Voltaire was a versatile writer, producing works in almost every literary form, including plays, poems, novels, essays, and historical and scientific works.  He wrote more than 20,000 letters and more than 2,000 books and pamphlets.  He was an outspoken advocate, despite the risk this placed him in under the strict censorship laws of the time.  As a satirical polemicist, he frequently made use of his works to criticize intolerance, religious dogma, and the French institutions of his day.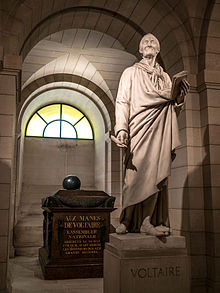 The Final Footprint – Because of his well-known criticism of the Church, which he had refused to retract before his death, Voltaire was denied a Christian burial, but friends managed to bury his body secretly at the Abbey of Scellières in Champagne before this prohibition had been announced.  His heart and brain were embalmed separately.  On 11 July 1791, the National Assembly of France, which regarded him as a forerunner of the French Revolution, had his remains brought back to Paris to enshrine him in the Panthéon.  It is estimated that a million people attended the procession, which stretched throughout Paris.  There was an elaborate ceremony, complete with an orchestra, and the music included a piece that André Grétry had composed specially for the event.  A widely repeated story, that the remains of Voltaire were stolen by religious fanatics in 1814 or 1821 during the Pantheon restoration and thrown into a garbage heap, is false.  Such rumours resulted in the coffin being opened in 1897, which confirmed that his remains were still present.  Other notable Final Footprints at the Panthéon include: Louis Braille, Pierre and Marie Curie, Alexandre Dumas, Victor Hugo, André Malraux, Jean-Jacques Rousseau, and Émile Zola.
Have you planned yours yet?
Follow TFF on twitter @RIPPTFF