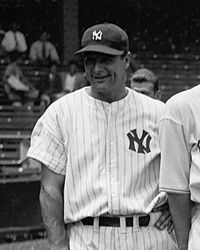 On this day in 1941, baseball

player, New York Yankee, 7x All-Star, 6x World Series Champion, Hall of Famer, The Iron Horse, Lou Gehrig died at his home in the Riverdale section of the Bronx, New York at the age of 37 from amyotrophic lateral sclerosis (ALS), now commonly known in the United States and Canada as Lou Gehrig's disease.  Born Henry Louis Gehrig on 19 June 1903 in the Yorkville section of Manhattan.  His legendary 17-year career was cut short by the disease.  Perhaps even more legendary is the strong dignity with which he faced his prognosis.  The Yankees announced his retirement and proclaimed 4 July 1939 as "Lou Gehrig Appreciation Day."  In his speech that day, wearing his Yankee's uniform, Gehrig in part said; "Fans, for the past two weeks you have been reading about the bad break I got.  Yet today I consider myself the luckiest man on the face of the earth."  The Yankees retired his number four that day.  Gehrig was married to Eleanor Twitchell (1933-1941 his death).  She did not remarry.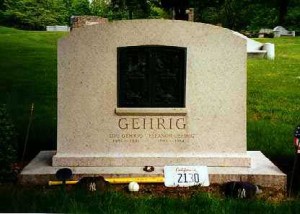 The Final Footprint – Gehrig was cremated and his cremains are interred in Kensico Cemetery in Valhalla, New York.  Eleanor was interred next to him following her death in 1984.  Their graves are marked by a companion upright granite marker.  Gary Cooper portrayed Gehrig in the movie The Pride of the Yankees (1942).  The Yankees added a monument to Monument Park to honor Gehrig.  Monument Park is an open-air museum containing a collection of monuments, plaques, and retired numbers honoring distinguished members of the Yankees.  Other notable Yankees whose final footprints include memorialization in Monument Park; Joe DiMaggio, Babe Ruth, George Steinbrenner, Roger Maris, Thurman Munson, Mickey Mantle, Roger Maris, Phil Rizzuto, Billy Martin, Mel Allen, Bob Sheppard, and Casey Stengel.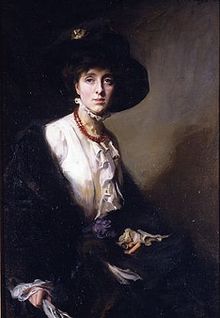 On this day in 1962, author, poet and one-time lover of Virginia Woolf, The Hon Victoria Mary Sackville-West, Lady Nicolson, died at the age of 70 in Sissinghurst Castle, Kent, England.  Born Victoria Mary Sackville-West at Knole House near Sevenoaks, Kent on 9 March 1892.  She won the Hawthornden Prize in 1927 and 1933.  She was known for her exuberant aristocratic life, her passionate affair with the novelist Woolf, and Sissinghurst Castle Garden, which she and her husband, Sir Harold Nicolson, created at their estate.  Woolf wrote one of her most famous novels, Orlando, described by Sackville-West's son Nigel Nicolson as "the longest and most charming love-letter in literature", as a result of her affair with Sackville-West.  The moment of the conception of Orlando was documented from Woolf's diary on 5 October 1927: "And instantly the usual exciting devices enter my mind: a biography beginning in the year 1500 and continuing to the present day, called Orlando: Vita; only with a change about from one sex to the other".  The Final Footprint – Sackville-West is entombed  in the Sackville family vault at Withyham Parish Church in East Sussex.
On this day in 2008, rhythm and blues vocalist, guitarist, songwriter (usually as Ellas McDaniel), rock and roll pioneer, The Originator, Bo Diddley died of heart failure surrounded by his family at his home in Archer, Florida at the age of 79.
Bo Diddley

Bo Diddley performing in 2005

 

 

 

 
Born Ellas Otha Bates on December 30, 1928 in McCombs, Mississippi.  Diddley played a key role in the transition from the blues to rock and roll.
In my opinion, his use of African rhythms and a signature beat, a simple five-accent hambone rhythm, is a cornerstone of hip hop, rock, and pop. In recognition of his achievements, he was inducted into the Rock and Roll Hall of Fame and received Lifetime Achievement Awards from the Rhythm and Blues Foundation and a Grammy Award from the National Academy of Recording Arts and Sciences. He is also recognized for his technical innovations, including his distinctive rectangular guitar.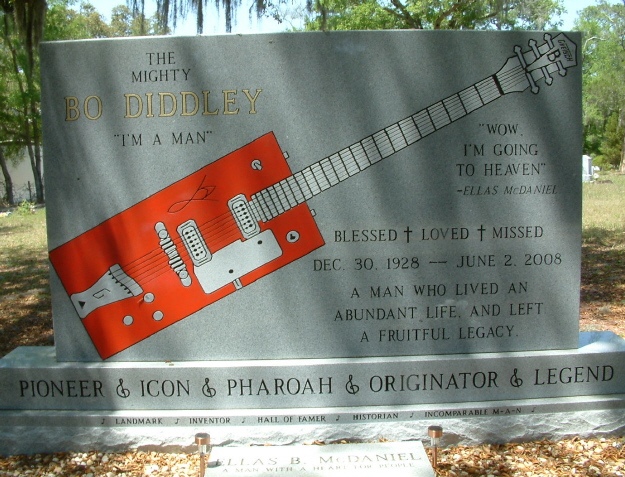 The Final Footprint – The gospel song, 'Walk Around Heaven' was sung at his bedside and when it was done he said 'wow' with a thumbs up.  His last words he said 'I'm going to heaven.'"
His funeral, a four-hour "homegoing" service, took place on June 7, 2008, at Showers of Blessings Church in Gainesville, Florida, and kept in tune with the vibrant spirit of Bo Diddley's life and career. The many in attendance chanted "Hey Bo Diddley" as a gospel band played the legend's music. A number of notable musicians sent flowers, including George Thorogood, Tom Petty and Jerry Lee Lewis. Little Richard, who had been asking his audiences to pray for Bo Diddley throughout his illness, had to fulfil concert commitments in Westbury and New York City the weekend of the funeral. He took time at both concerts to remember his friend of a half-century, performing Bo's namesake tune in his honor.
After the funeral service, a tribute concert was held at the Martin Luther King Center in Gainesville, Florida and featured guest performances by his son and daughter, Ellas McDaniel Jr. and Evelyn "Tan" Cooper; long-time background vocalist Gloria Jolivet; former Offspring guitarist and long-time friend and coproducer of "Bo Diddley put the rock in rock'n'roll," Scott "Skyntyte" Free and Eric Burdon.  
Diddley is interred at Rosemary Hill Cemetery in Bronson, Florida.
Have you planned yours yet?
Follow TFF on twitter @RIPTFF