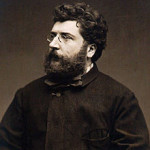 On this day in 1875, composer and pianist of the Romantic era, Georges Bizet died on his sixth wedding anniversary, from heart failure at the age of 36 in Bougival (Yvelines), about 10 miles west of Paris.  Born Georges Alexandre César Léopold Bizet on 25 October 1838 at 26 rue de la Tour d'Auvergne in the 9th arrondissement of Paris.  Perhaps best know for his opera Carmen.  Carmen, which is based on a novella of the same title written in 1846 by the French writer Prosper Mérimée, premiered on 3 March 1875, at the Opéra-Comique in Paris, but received an initial lukewarm reception.  Bizet was reportedly bitterly disappointed.  Of course, Carmen has since become one of the most popular works in the entire operatic repertoire.  In June 1862 the Bizet family's maid, Marie Reiter, gave birth to a son, Jean Bizet.  Bizet married Geneviève Halévy (1869–1875 his death).  Bravo Bizet!  Dear reader, I strongly suggest you purchase/download Carmen and see it live when you can.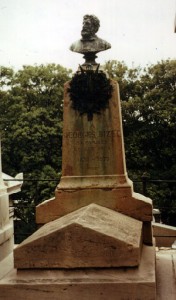 The Final Footprint – Bizet is entombed in  Père Lachaise Cemetery in Paris.  His tomb is marked by an upright marble or stone monument with his bronze bust on top.  The names of his operas are engraved on the side of the monument.  The following is engraved on the front; SA FAMILLE ET SES AMIS (His family and friends).  Other notable Final Footprints at Père Lachaise include; Honoré de Balzac, Jean-Dominique Bauby, Maria Callas, Chopin, Colette, Auguste Comte, Jean-Baptiste-Camille Corot, Molière, Jim Morrison, Édith Piaf, Camille Pissarro, Marcel Proust, Sully Prudhomme, Gioachino Rossini, Georges-Pierre Seurat, Simone Signoret, Gertrude Stein, Alice B. Toklas, Oscar Wilde, and Richard Wright.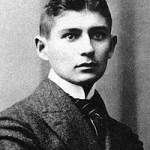 On this day in 1924, German-language writer of novels and short stories, one of the most influential authors of the 20th century, Franz Kafka died from complications of laryngeal tuberculosis at a sanatorium in Kierling near Vienna, at the age of 40.  Born near the Old Town Square in Prague on 3 July 1883.  Kafka strongly influenced genres such as existentialism.  His works, "Die Verwandlung" ("The Metamorphosis"), Der Process (The Trial), and Das Schloss (The Castle), are filled with the themes and archetypes of alienation, physical and psychological brutality, parent/child conflict, characters on a terrifying quest, and mystical transformations.  The term Kafkaesque has entered the English language to describe surreal situations.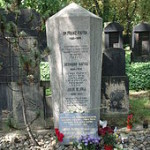 The Final Footprint – Kafka's body was brought back to Prague where he was buried on 11 June 1924, in the New Jewish Cemetery in Prague-Žižkov.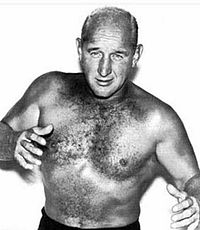 On this day in 1973, United States Navy veteran, professional wrestler, humanitarian, Dory Funk died at St. Anthony's Hospital in Amarillo, Texas from a heart attack at the age of 54.  Born Dorrance Wilhelm Funk on 4 May 1919 in Hammond, Indiana.  Funk is the father of wrestlers Dory Funk, Jr. and Terry Funk.  He founded The Double Cross Ranch near Amarillo.  He was a long time supporter of the Cal Farley Boys Ranch.  As a boy growing up in the Texas Panhandle, I watched the Funks wrestle on television.  We called it "big time wrastlin'".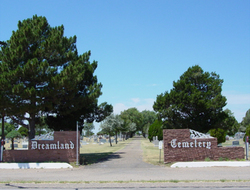 The Final Footprint – Funk is interred in Dreamland Cemetery in Canyon, Texas.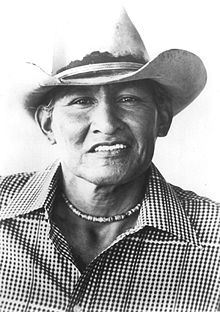 On this day in 1987, actor and artist, Native American Muscogee (Creek), Will Sampson died in Houston after undergoing a heart and lung transplant of post-operative kidney failure and pre-operative malnutrition problems, at the age of 53.  Born in Okmulgee, Oklahoma on 27 September 1933.  Perhaps his most notable roles were as "Chief Bromden" in the Miloš Forman film One Flew Over the Cuckoo's Nest (1975)based on the 1962 novel of the same name by Ken Kesey; as "Ten Bears" in the Clint Eastwood film The Outlaw Josey Wales (1976) based on the novel Gone to Texas by Forrest Carter; and as Crazy Horse in The White Buffalo (1977).  Sampson was also an artist.  His large painting depicting the Ribbon Dance of his Muscogee people is in the collection of the Creek Council House Museum in Okmulgee, Oklahoma.  The Final Footprint – Sampson was interred at Graves Creek Cemetery in Hitchita, Oklahoma.
Have you planned yours yet?
Follow TFF on twitter @RIPTFF