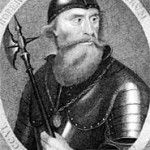 On this day in 1329, King of Scots from 25 March 1306, until his death, one of Scotland's greatest kings and one of the most famous warriors of his generation, one of Scotland's national heroes, Robert the Bruce, Robert I died on 7 June 1329, at the Manor of Cardross, near Dumbarton at the age of 54.  Born 11 July 1274 most likely in Turnberry Castle in Ayrshire, the head of his mother's earldom.  Robert led Scotland during the Wars of Scottish Independence against England.  He fought successfully during his reign to regain Scotland's place as an independent nation.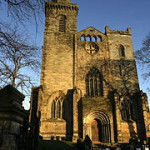 The Final Footprint – Robert's final wish reflected conventional piety, and was perhaps intended to perpetuate his memrory.  After his death his heart was to be removed from his body and borne by a noble knight on a crusade against the Saracens and carried to the Church of the Holy Sepulchre in Jerusalem, before being brought back to Scotland.  He died utterly fulfilled, in that the goal of his lifetime's struggle, untrammelled recognition of the Bruce right to the crown, had been realised, and confident that he was leaving the kingdom of Scotland safely in the hands of his most trusted lieutenant, Moray, until his infant son reached adulthood.  Six days after his death, to complete his triumph still further, papal bulls were issued granting the privilege of unction at the coronation of future Kings of Scots.
The king's body was embalmed and his sternum was sawn to allow extraction of the heart, which Sir James Douglas placed in a silver casket to be worn on a chain around his neck.  The body was taken to Dunfermline Abbey, and Robert the Bruce was entombed in what was then the very centre of the abbey, beneath the high altar, and beside his queen.  The king's tomb was carved in Paris by Thomas of Chartres from alabaster brought from England and was decorated with gold leaf.  The tomb was transported to Dunfermline via Bruges and was erected over the king's grave in the autumn of 1330.  Ten alabaster fragments from the tomb are on display in the National Museum of Scotland and traces of gilding still remain on some of them.
When a projected international crusade failed to materialise, Douglas and his company sailed to Spain where Alfonso XI of Castile was mounting a campaign against the Moorish kingdom of Granada.  Douglas was killed in battle during the siege of Teba in August 1330 while fulfilling his promise.  His body and the casket containing the embalmed heart were found together upon the field.  They were both conveyed back to Scotland by Sir William Keith of Galston.  In accordance with Bruce's written request, the heart was buried at Melrose Abbey in Roxburghshire.  In 1920, the heart was discovered by archaeologists and was reburied, but the location was not marked.  In 1996, a casket was unearthed during construction work.  Scientific study by AOC archaeologists in Edinburgh, demonstrated that it did indeed contain human tissue and it was of appropriate age.  It was reburied in Melrose Abbey in 1998, pursuant to the dying wishes of the King.
Portrayed in Mel Gibson's film Braveheart by Angus Macfadyen.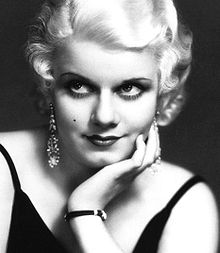 On this day in 1937, actress, Baby, the Blonde Bombshell, the Platinum Blonde, Jean Harlow died of renal failure in Good Samaritan Hospital in Los Angeles at the age of 26.  Born Harlean Harlow Carpenter on 3 March 1911 in Kansas City, Missouri.  Howard Hughes signed Harlow to a contract and she appeared in his film Hell's Angels (1930).  She was one of the biggest stars in Hollywood in the 1930's and appeared in five films with Clark Gable.  Harlow married three times: Charles McGrew (1927-1929 divorce), Paul Bern (1932-1932 his death), Harold Rosson (1933-1934 divorce).  After her third marriage ended in 1934, Harlow met William Powell, another MGM star, and quickly fell in love.  Reportedly the couple were engaged for two years, but differences kept them from formalizing their relationship (she wanted children; he did not).  Harlow also said that Louis B. Mayer would never allow them to marry.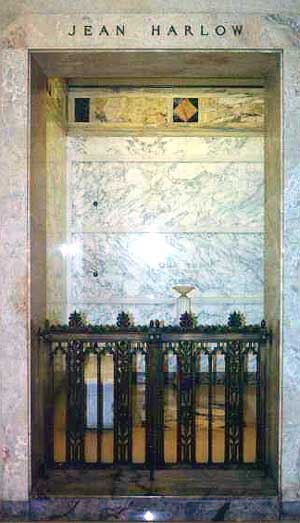 The Final Footprint – Harlow is entombed in a private family room in the Great Mausoleum at Forest Lawn Memorial Park, Glendale, California.  Her crypt is lettered; OUR BABY.  She was buried in the gown she wore in Libeled Lady and in her hands she held a white gardenia and a note which Powell had written: "Goodnight, my dearest darling."  Spaces in the same room were reserved for Harlow's mother and Powell.  Harlow's mother was entombed there in 1958, but Powell remarried in 1940 and after his death in 1984 was cremated: his ashes were scattered over the Palm Springs Desert area.  Gable was a pallbearer.  Other notable Final Footprints at Forest Lawn Glendale include; L. Frank Baum, Humphrey Bogart, Lon Chaney, Nat King Cole, Dorothy Dandridge, Sammy Davis, Jr., Sam Cooke, Walt Disney, Errol Flynn, Clark Gable, Michael Jackson, Carole Lombard, Casey Stengel, Jimmy Stewart, Elizabeth Taylor, and Spencer Tracy.
On this day in 2012, musician, songwriter, former member of Fleetwood Mac, Bob Welch died from a self-inflicted gunshot to the chest in his Nashville home, at the age of 66.  Born Robert Lawrence Welch, Jr. on 31 August 1945 in Los Angeles.  Welch had a successful solo career in the late 1970s. His singles included "Hot Love, Cold World", "Ebony Eyes", "Precious Love", and his signature "Sentimental Lady".  The Final Footprint – Not known at this time.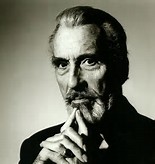 On this day in 2015, actor, singer, and author Christopher Lee died at the Chelsea and Westminster Hospital, Chelsea, London, after being admitted for respiratory problems and heart failure, shortly after celebrating his 93rd birthday.  Born Christopher Frank Carandini Lee in Belgravia, Westminster, London, on 27 May 1922.  With a career spanning nearly 70 years, Lee initially portrayed villains and became known for his role as Count Dracula in a sequence of Hammer Horror films.  His other film roles include Francisco Scaramanga in the James Bond film The Man with the Golden Gun (1974), Saruman inThe Lord of the Rings film trilogy (2001–2003) and The Hobbit film trilogy (2012–2014), and Count Dooku in the final two films of the Star Wars prequel trilogy (2002 and 2005).
Lee was knighted for services to drama and charity in 2009, received the BAFTA Fellowship in 2011 and received the BFI Fellowship in 2013.  Noted as an actor for his deep strong voice, Lee was also known for his singing ability, recording various opera and musical pieces between 1986 and 1998 and the symphonic metal album Charlemagne: By the Sword and the Cross in 2010.  The heavy metal follow-up titled Charlemagne: The Omens of Death was released on 27 May 2013.  He was honoured with the "Spirit of Metal" award at the 2010 Metal Hammer Golden God awards ceremony.  Lee married Danish painter and former model Birgit "Gitte" Krøncke (1961-2015).  The Final Footprint – Final arrangements not known at this time.
Have you planned yours yet?
Follow TFF on twitter @RIPTFF