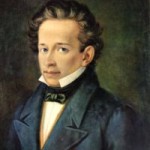 On this day in 1837, Italian poet, essayist, philosopher, and philologist, Giacomo Leopardi died in Naples at the age of 38 during the cholera epidemic.  Born Giacomo Taldegardo Francesco di Sales Saverio Pietro Leopardi on 29 June 1798 in Recanati, Papal States.  Although he lived in a secluded town in the ultra-conservative Papal States, he came in touch with the main thoughts of the Enlightenment, and by his own literary evolution, created a remarkable and renowned poetic work, related to the Romantic era.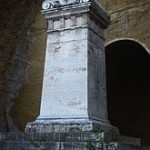 The Final Footprint – Thanks to Antonio Ranieri's intervention with the authorities, Leopardi's remains were prevented from being ignominiously buried in the common grave (as the strict hygienic regulations of the time required) and he was entombed in the atrium of the church of San Vitale at Fuorigrotta.  In 1939 his tomb, moved to the Parco Virgiliano, was declared a national monument.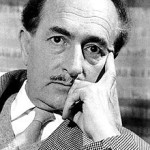 On this day in 1968, Italian author and poet, 1959 recipient of the Nobel Prize for Literature "for his lyrical poetry, which with classical fire expresses the tragic experience of life in our own times", Salvatore Quasimodo died from a cerebral hemorrhage in a hospital in Naples at the age of 66.  Born on 20 August 1901 in Modica, Sicily.  Along with Giuseppe Ungaretti and Eugenio Montale, he is one of the foremost Italian poets of the 20th century.  The Final Footprint – He was interred in the Cimitero Monumentale in Milan.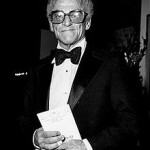 On this day in 1986, American lyricist and librettist, who in collaboration with Frederick Loewe, created some of the world's most popular and enduring works of musical theatre for both the stage and on film, Alan Jay Lerner died of lung cancer in Manhattan at the age of 67.  Born on 31 August 1918 in New York City.  He won three Tony Awards and three Academy Awards, among other honors.  My favorite Lerner and Loewe musicals are My Fair Lady (1956) and Camelot (1960).  He married eight times: Ruth Boyd (1940–1947), singer Marion Bell (1947–1949), actress Nancy Olson (1950–1957), lawyer Micheline Muselli Pozzo di Borgo (1957–1965), editor Karen Gunderson (1966–1974), Sandra Payne (1974–1976), Nina Bushkin (1977–1981) and Liz Robertson (1981–1986 his death).  The Final Footprint – Lerner was cremated and his cremains scattered.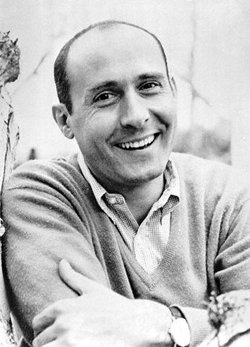 On this day in 1994, United States Army veteran, composer, conductor and arranger, Grammy, Emmy and Oscar winner, Henry Mancini, died of pancreatic cancer in Los Angeles at the age of 70.  Born Enrico Nicola Mancini on 16 April 1924 in Cleveland, Ohio.  His parents emigrated to America from the Abruzzo region of Italy.  Perhaps his best-known works include the theme to The Pink Panther film series ("The Pink Panther Theme"), the Peter Gunn Theme from the television series, the song "Baby Elephant Walk" from the Howard Hawks's film Hatari (1962) starring John Wayne, and for the songs "Moon River" from the Blake Edwards' film Breakfast at Tiffany's (1961) starring Audrey Hepburn and "Days of Wine and Roses" with lyrics by Johnny Mercer, from the 1962 Edwards's film of the same name starring Jack Lemmon.  Mancini was married to Virginia "Ginny" O'Connor (1951-1994 his death).  The Final Footprint – Mancini was cremated.
Have you planned yours yet?
Follow TFF on twitter @RIPTFF