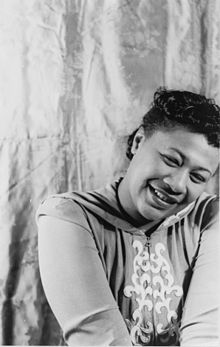 On this day in 1996, Grammy Award winning singer, "The First Lady of Song", "Lady Ella", Ella Fitzgerald died from complications of diabetes at her home in Beverly Hills at the age of 79.  Born Ella Jane Fitzgerald on 25 April 1917 in Newport News, Virginia.  In my opinion, she is one of the most notable interpreters of the Great American Songbook.  She made her singing debut at 17 on 21 November 1934 at the Apollo Theater in Harlem.  Perhaps best known for her series of "song book" recordings, collectively considered a cornerstone of 20th century recorded music.  They are;
Ella Fitzgerald Sings the Cole Porter Songbook (1956)
Ella Fitzgerald Sings the Rodgers & Hart Songbook (1956)
Ella Fitzgerald Sings the Duke Ellington Songbook (1957)
Ella Fitzgerald Sings the Irving Berlin Songbook (1958)
Ella Fitzgerald Sings the George and Ira Gershwin Songbook (1959)
Ella Fitzgerald Sings the Harold Arlen Songbook (1961)
Ella Fitzgerald Sings the Jerome Kern Songbook (1963)
Ella Fitzgerald Sings the Johnny Mercer Songbook (1964)
Fitzgerald married three times; Benny Kornegay (1941-1943 annulled), Ray Brown (1947-1953 divorce), and possibly Thor Einar Larsen in 1957.  Bing Crosby summed it up; "Man, woman, or child, Ella is the greatest."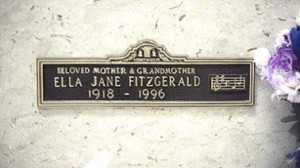 The Final Footprint – Fitzgerald is entombed in the Sunset Memorial Garden Mausoleum, Sanctuary of the Bells, in Inglewood Park Cemetery in Inglewood, California.  Other notable Final Footprints at Inglewood Park include; Ray Charles, baseball player Curt Flood, actress Betty Grable, attorney Robert Kardashian (father of  Kim, Kourtney and  Khloé), soul musician Billy Preston and blues musician T-Bone Walker.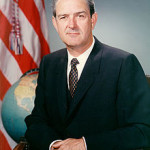 On this day in 1993, graduate of the University of Texas at Austin, U.S. Navy veteran, influential American politician, 39th governor of Texas, Secretary of the Navy under President John F. Kennedy, Secretary of the Treasury under President Richard M. Nixon, John B. Connally died  of pulmonary fibrosis at the age of 76, in Houston.  Born John Bowden Connally on 27 February 1917 in Floresville, Texas.  While he was Governor in 1963, Connally was a passenger in the car in which President Kennedy was assassinated.  Connally was seriously wounded during the shooting.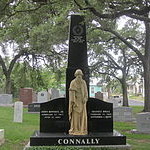 The Final Footprint – His funeral was held at the First United Methodist Church of Austin where he and his wife, Nellie Connally, had been members since their days living one block to the south in the Texas Governors Mansion, 1963–1969.  The Connallys are interred at the Texas State Cemetery in Austin.  Other notable final footprints at Texas State Cemetery include; Stephen F. Austin, J. Frank Dobie, Barbara Jordan, Tom Landry (cenotaph), James A. Michener (cenotaph), Ann Richards, Edwin "Bud" Shrake, Big Foot Wallace, and Walter Prescott Webb.
Have you planned yours yet?
Follow TFF on twitter @RIPTFF