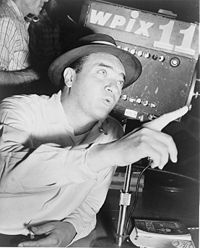 On this day in 1996, sportscaster, "The Voice of the New York Yankees", Mel Allen died of heart failure in Greenwich, Connecticut at the age of 83.  Born Melvin Allen Israel (Hebrew name: Mordechai ben Yehuda Aliah) on 14 February 1913 in Birmingham, Alabama.  Allen graduated from the University of Alabama and obtained a law degree from Alabama as well.  He became Arch McDonald's partner on radio broadcasts for the Yankees and the New York Giants in 1939.  The following season he became lead broadcaster for both teams.  After World War II, Allen began doing Yankees games exclusively.  He eventually called 22 World Series on radio and television and 24 All-Star Games.  Allen served as mentor to a young Curt Gowdy who was partnered with Allen for two seasons.  Allen's catchphrases were;  "Hello there, everybody!" to start a game, "How a-bout that?!" or "Going, going, gone!" on home runs and "Three and two. What'll he do?"  Allen never married.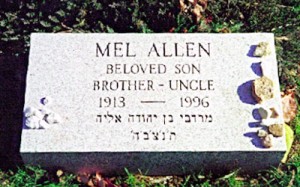 The Final Footprint – Allen is interred in Beth-el Cemetery in Stamford, Connecticut.  His grave is marked by an individual raised engraved granite marker.  On 25 July 1998, the Yankees dedicated a plaque in his memory for Monument Park at Yankee Stadium.  The plaque calls him "A Yankee institution, a national treasure" and includes his line, "How about that?"    Monument Park is an open-air museum containing a collection of monuments, plaques, and retired numbers honoring distinguished members of the Yankees.  Other notable Yankees whose final footprints include memorialization in Monument Park; Lou Gehrig, Joe DiMaggio, Babe Ruth, George Steinbrenner, Roger Maris, Thurman Munson, Mickey Mantle, Roger Maris, Phil Rizzuto, Billy Martin, Bob Sheppard, and Casey Stengel.
Have you planned yours yet?
Follow TFF on twitter @RIPTFF