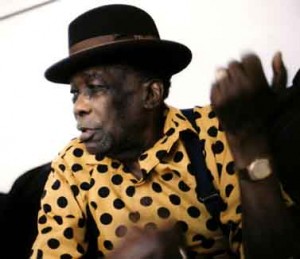 On this day in 2001, Grammy winning blues guitarist, singer and songwriter, King of the Boogie, John Lee Hooker, died in Los Altos, California at the age of 83.  Born on 22 August 1917 in Coahoma County, Mississippi.  Hooker performed his own unique style of what was originally closest to Delta blues; a 'talking blues' style that was his trademark and his own unique genre of the blues, often incorporating the boogie-woogie piano style and a driving rhythm into his masterful and idiosyncratic blues guitar and singing.  His best known songs include "Boogie Chillen'" (1948), "I'm in the Mood" (1951) and "Boom Boom" (1962), the first two reaching R&B #1 in the Billboard charts.  Hooker appeared and sang in the John Landis film, The Blues Brothers (1980), starring John Belushi and Dan Aykroyd.  His songs have been covered my many artists including;  Buddy Guy, Cream, AC/DC, ZZ Top, Led Zeppelin, Tom Jones, Jimi Hendrix, Eric Clapton, Van Morrison, The Yardbirds, The Animals, The Doors, George Thorogood, R. L. Burnside and The J. Geils Band.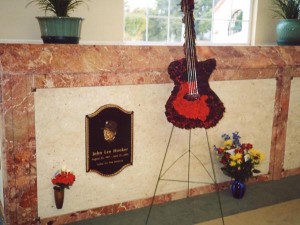 The Final Footprint – Hooker is entombed in Chapel of the Chimes Columbarium and Mausoleum in Oakland, California.  His crypt is marked by a bronze plaque with his likeness and the epitaph; KING OF THE BOOGIE.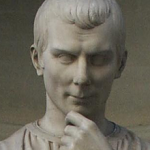 On this day in 1527, Italian historian, politician, diplomat, philosopher, humanist and writer based in Florence during the Renaissance, Niccolò Machiavelli died in Florence at the age of 58.  Born Niccolò di Bernardo dei Machiavelli on 3 May 1469 in Florence.  He was for many years an official in the Florentine Republic, with responsibilities in diplomatic and military affairs.  He was a founder of modern political science, and more specifically political ethics.  He also wrote comedies, carnival songs, and poetry.  His personal correspondence is renowned in the Italian language.  He was Secretary to the Second Chancery of the Republic of Florence from 1498 to 1512, when the Medici were out of power.  He wrote his masterpiece, The Prince, after the Medici had recovered power and he no longer held a position of responsibility in Florence.  His moral and ethical beliefs led to the creation of the word machiavellianism which has since been used to describe one of the three dark triad personalities in psychology.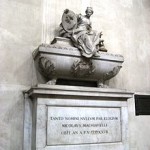 The Final Footprint –  He was entombed at the Church of Santa Croce in Florence, Italy.  An epitaph honoring him is inscribed on his monument.  The Latin legend reads: TANTO NOMINI NULLUM PAR ELOGIUM ("so great a name (has) no adequate praise" or "no eulogy (would be appropriate to) such a great name").  Santa Croce is the burial place of some of the most famous Italians and is known also as the Temple of the Italian Glories (Tempio dell'Itale Glorie).  Other notable final footprints at Santa Croce include Michelangelo, Ugo Foscolo, Galileo, and Rossini.
Have you planned yours yet?
Follow TFF on twitter @RIPTFF