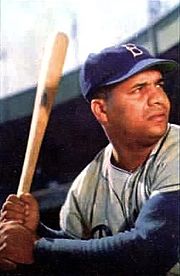 On this day in 1993, Hall of Fame

baseball player, 8x All-Star, World Series Champion, 3x NL MVP, Campy, Roy Campanella died of a heart attack in his Woodland Hills, California home at the age of 71.  Born on 19 November 1921 in Philadelphia, Pennsylvania.  In my opinion, he is one of the greatest catchers in the history of the game.  His father was a Sicilian immigrant and his mother was African American, so he wasd barred from Major League Baseball before 1947.  His career was cut short in 1958 when he was paralyzed in an automobile accident.  On 4 June 1972, the Dodgers retired Campanella's uniform number 39 alongside Jackie Robinson's 42 and Sandy Koufax's 32.  Campanella was married three times; Bernice Ray (1939 divorce), Ruthe Willis (1945-1963 her death) and Roxie Doles (1964-1993 his death).  Campanella authored the inspirational book It's Good to Be Alive. The Final Footprint – Campanella was cremated.  Simon & Schuster published a biography of Campanella written by Neil Lanctot, Campy – The Two Lives of Roy Campanella (2011).
Have you planned yours yet?
Follow TFF on twitter @RIPTFF