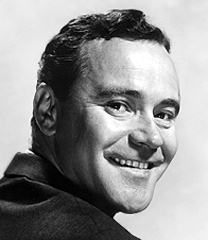 On this day in 2001, United States Navy veteran, Academy Award-winning actor and musician, Jack Lemmon died of colon and bladder cancer in Los Angeles at the age of 76.  Born John Uhler Lemmon III on 8 February 1925 in Newton, Massachusetts.  Lemmon graduated from Harvard.  In my opinion, Lemmon is one the funniest and best film actors.  My favorite Lemmon movie roles include; as Jerry "Daphne" in Billy Wilder's Some Like it Hot (1959) with Marilyn Monroe and Tony Curtis; as Nestor Patou/Lord X in Wilder's Irma la Douce (1963) with Shirley MacLaine; as Felix Ungar in The Odd Couple (1968) with Walter Mathau and written by Neil Simon; as George Kellerman in The Out-of-Towners (1970), written by Simon; as Jack Godell in The China Syndrome (1979) with Jane Fonda and Michael Douglas; as Shelley Levene in David Mamet's Glengarry Glenn Ross (1992) with Al Pacino, Alec Baldwin, Ed Harris, Alan Arkin, and Kevin Spacey; as John Gustafson in Grumpy Old Men (1993) with Ann-Margret, Mathau and Burgess Meredith and in the sequel Grumpier Old Men (1995) with Ann-Margret, Sophia Loren, Mathau and Meredith.  Lemmon was married twice; Cynthia Stone (1950-1956 divorce) and Felicia Farr (1962-2001 his death).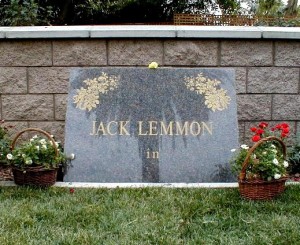 The Final Footprint – Lemmon is interred in a bench estate plot, near his friend Mathau, in Westwood Memorial Park (a Dignity Memorial property) in Los Angeles.  His grave is marked by an upright slant granite marker engraved simply, JACK LEMMON in.  Other notable final footprints at Westwood include; Ray Bradbury, Sammy Cahn, Truman Capote, James Coburn, Rodney Dangerfield, Janet Leigh, Farrah Fawcett, Brian Keith, Don Knotts, Burt Lancaster, Peter Lawford, Peggy Lee, Karl Malden, Dean Martin, Walter Mathau, Marilyn Monroe, Carroll O'Connor, Roy Orbison, George C. Scott, Dorothy Stratten, Natalie Wood and Frank Zappa.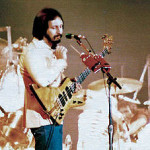 On this day in 2002, bass guitarist, songwriter, singer, horn player, and film and record producer who was best known as the bass player for the rock band The Who, The Ox, Thunderfingers, John Entwistle died in hotel room 658 at the Hard Rock Hotel and Casino in Las Vegas one day before the scheduled first show of The Who's 2002 US tour, at the age of 57.  The Clark County medical examiner determined that death was due to a heart attack induced by cocaine.  Born John Alec Entwistle on 9 October 1944 in Chiswick, London.  The Final Footprint – His funeral was held at St Edward's Church in Stow-on-the-Wold, Gloucestershire, England, on 10 July 2002.  He was cremated and his ashes were buried privately.  A memorial service was held on 24 October 2002 at St. Martin-in-the-Fields, Trafalgar Square, London.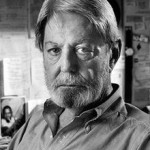 On this day in 2005, historian and novelist who wrote The Civil War: A Narrative, a massive, three-volume history of the war, Shelby Foote died at Baptist Hospital in Memphis on June 27, 2005, aged 88.  He had had a heart attack after a recent pulmonary embolism.  Born Shelby Dade Foote, Jr. on 17 November 1916 in Greenville, Mississippi.  The Final Footprint – He was interred in Elmwood Cemetery in Memphis.  His grave is beside the family plot of General Forrest.
Have you planned yours yet?
Follow TFF on twitter @RIPTFF