Beautiful women beware the 29th of June!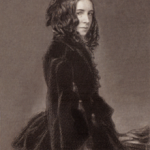 On this day in 1861, one of the most prominent poets of the Victorian era, wife of poet and playwright Robert Browning, Elizabeth Barrett Browning died in Rome in her husband's arms at the age of 55.  Born 6 March 1806 in Kelloe, Durham, England.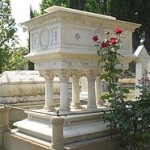 The Final Footprint – Browning said that she died "smilingly, happily, and with a face like a girl's. … Her last word was—… 'Beautiful'".  She was entombed in the Protestant English Cemetery of Florence.  Browning also noted that on Monday July 1 the shops in the section of the city around Casa Guidi were closed, while Elizabeth was mourned with unusual demonstrations.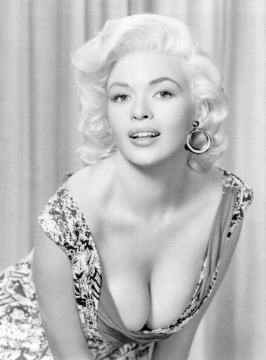 On this day in 1967, Playboy Playmate of the Month, actress, mother of actress Mariska Hargitay, Jayne Mansfield died in an automobile crash on U. S. Highway 90 between Biloxi and New Orleans, at the age of 34.  Born Vera Jayne Palmer on 19 April 1933 in Bryn Mawr, Pennsylvania.  Perhaps her best known movie roles were: as Jerri Jordan in The Girl Can't Help It (1956); as Rita Marlowe in Will Success Spoil Rock Hunter? (1957); as Sandy Brooks in Promises! Promises (1963).  Well known for her legendary hourglass figure measurements (40-21-35); not so well known for her high IQ measurement (163).  She attended the University of Texas at Austin and UCLA and SMU.  Mansfield was married three times; Paul Mansfield (1950-1958 divorce), Miklós "Mickey" Hargitay (1958-1964 divorce) and Matt Cimber (1964-1966 filed for divorce) and reportedly had affairs with Robert F. Kennedy and JFK.  Mansfield and Hargitay co-authored her autobiography, Jayne Mansfield's Wild, Wild World.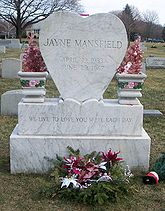 The Final Footprint – Mansfield is interred in Fair View Cemetery in Pen Argyl, Pennsylvania.  Her grave is marked by an upright granite marker in the shape of a heart with the inscription; WE LIVE TO LOVE YOU MORE EACH DAY.  A memorial cenotaph, showing an incorrect birth year, was erected in the Hollywood Forever Cemetery, Hollywood, California.  The cenotaph was placed by The Jayne Mansfield Fan Club.  Other notable Final Footprints at Hollywood Forever include voice actor Mel Blanc (yes, his epitaph is "That's All Folks!"), director/producer Cecil B. DeMille, director Victor Fleming, Judy Garland, actress Joan Hackett, director John Huston, actress Hattie McDaniel's cenotaph, mobster Bugsy Siegel, actor Rudolph Valentino and actress Fay Wray.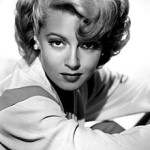 On this day in 1995, actress, Academy Award nominee, Lana Turner died from throat cancer in Century City, California at the age of 74.  Born Julia Jean Turner on 8 February 1921 in Wallace, Idaho.  My favorite Turner movie is The Postman Always Rings Twice (1946).  The Final Footprint – Turner was cremated.  For her contribution to the motion-picture industry, Turner has a star on the Hollywood Walk of Fame at 6241 Hollywood Boulevard.  On May 24, 1950 Lana left hand and footprints in front of the Grauman's Chinese Theatre.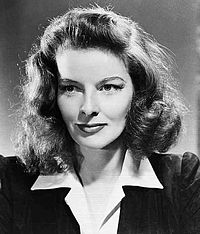 On this day in 2003, actress of film, stage, and television who was known for her headstrong independence and spirited personality, 4x Academy Award winner, Katharine Hepburn died at the Hepburn family home in Fenwick, Connecticut.  She was 96 years old.  Born Katharine Houghton Hepburn on 12 May 1907 in Hartford, Connecticut.  Hepburn's career as a Hollywood leading lady spanned more than 60 years.  Her work came in a range of genres, from screwball comedy to literary drama.  Hepburn's characters were often strong, sophisticated women with a hidden vulnerability.  Hepburn famously shunned the Hollywood publicity machine, and refused to conform to society's expectations of women.  She was outspoken, assertive, athletic, and wore trousers before it was fashionable for women to do so.  She married once,  Ogden Smith (1928 – 1934 divorce), but thereafter lived independently.  A 26-year affair with her co-star Spencer Tracy was hidden from the public.  With her unconventional lifestyle and the independent characters she brought to the screen, Hepburn came to epitomize the "modern woman" in 20th-century America and helped change perceptions of women. In 1999, she was named by the American Film Institute as the top female Hollywood legend.  The Final Footprint – Hepburn was buried in Cedar Hill Cemetery, Hartford.  She requested that there be no memorial service.
Have you planned yours yet?
Follow TFF on twitter @RIPTFF