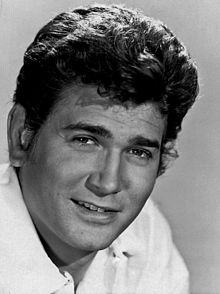 On this day in 1991, actor, writer, director, producer, Michael Landon died from pancreatic cancer at  the age of 54, in Malibu, California.  Born Eugene Maurice Orowitz in Forest Hills, Queens, a neighborhood of Queens, New York on 31 October 1936.  Known for his roles as Little Joe Cartwright in Bonanza (1959–73), Charles Ingalls in Little House on the Prairie (1974–83), and Jonathan Smith in Highway to Heaven (1984–89).  Landon produced, wrote, and directed many of his series' episodes.  In 1981, Landon won recognition for his screenwriting with a Spur Award from the Western Writers of America.  In 1976, Landon wrote and directed an auto-biographical movie, The Loneliest Runner, which was nominated for two Emmys.  Landon was married three times, and father to nine children:  Dodie Levy-Fraser (1956 – 1962 divorce), Marjorie Lynn Noe (1963 – 1982 divorce), Cindy Clerico (1983 – 1991 his death).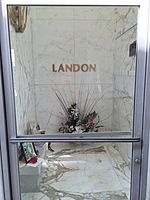 The Final Footprint – Landon was interred at Hillside Memorial Park Cemetery, in Culver City, California.  Other notable Final Footprints at Hillside Memorial include; comedian Jack Benny, comedian Milton Berle, actress Cyd Charisse, actor Lorne Greene, actor and Stooge Moe Howard, entertainer Al Jolson, lyricist Jerry Leiber, actress Suzanne Pleshette, entertainer Dinah Shore, and actress Shelley Winters.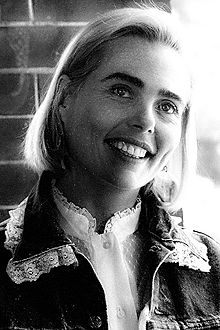 On this day in 1996, granddaughter of Ernest Hemingway, sister of Mariel Hemingway, fashion model and actress, Margaux Hemingway died, one day before the anniversary of her grandfather's suicide, from an overdose of phenobarbital in her studio apartment in Santa Monica, California at age 42.  Born Margot Louise Hemingway in Portland, Oregon on 16 February 1954.  The Final Footprint – Hemingway was cremated and the cremains buried in the Hemingway family plot in the Ketchum Cemetery in Idaho.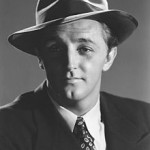 On this day in 1997, actor, author, composer and singer, Robert Mitchum died in Santa Barbara, California, due to complications of lung cancer and emphysema at the age of 79.  Born Robert Charles Durman Mitchum on 6 August 1917 in Bridgeport, Connecticut.  In my opinion, one of the greatest male American screen legends of all time.  Mitchum rose to prominence for his starring roles in several major works of the film noir style, and is considered a forerunner of the anti-heroes prevalent in film during the 1950s and 1960s.  My favorite Mitchum film roles include: as Max Cady in Cape Fear (1962), based on the John D. MacDonald book The Executioners with Gregory Peck; as sheriff J. P. Harrah in Howard Hawk's El Dorado (1967) with John Wayne and James Caan.  Mitchum was married to Dorothy Spence (1940–97 his death).  The Final Footprint – Mitchum was cremated and his cremains were scattered at sea.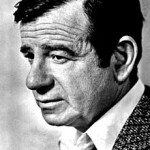 On this day in 2000, actor Walter Matthau died of a heart attack in Santa Monica at the age of 79.  Born Walter John Matthow in New York City's Lower East Side on 1 October 1920.  Perhaps best known for his role as Oscar Madison in The Odd Couple and his frequent collaborations with Odd Couple co-star Jack Lemmon, as well as his role as Coach Buttermaker in the 1976 comedy The Bad News Bears.  He won an Academy Award for his performance in the 1966 Billy Wilder film The Fortune Cookie.  Other notable roles included: as Max Goldman in Grumpy Old Men (1993) with Ann-Margret, Lemmon and Burgess Meredith and in the sequel Grumpier Old Men (1995) with Ann-Margret, Sophia Loren, and Meredith.  Matthau married twice; Grace Geraldine Johnson (1948–58; divorced; 2 children) and Carol Grace (1959–2000 his death; one child).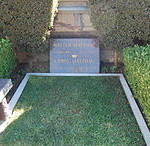 The Final Footprint – interred in the Westwood Village Memorial Park Cemetery (a Dignity Memorial property) in Los Angeles. Less than a year later, Lemmon was buried at the same cemetery.  After Matthau's death, Lemmon as well as other friends and relatives had appeared on Larry King Live in an hour of tribute and remembrance; many of those same people appeared on the show one year later, reminiscing about Lemmon.  His wife Carol, died of a brain aneurysm in 2003.  Her remains are buried next to Matthau's.  The remains of actor George C. Scott are also buried next to Matthau, in an unmarked grave.  Other notable final footprints at Westwood include; Ray Bradbury, Sammy Cahn, Truman Capote, James Coburn, Rodney Dangerfield, Janet Leigh, Farrah Fawcett, Brian Keith, Don Knotts, Burt Lancaster, Peter Lawford, Peggy Lee, Jack Lemmon, Karl Malden, Dean Martin, Marilyn Monroe, Carroll O'Connor, Roy Orbison, George C. Scott, Dorothy Stratten, Natalie Wood and Frank Zappa.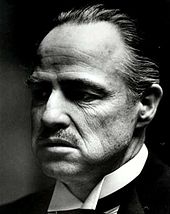 On this day in 2004, Academy Award-winning actor and activist, Marlon Brando died at the Ronald Reagan UCLA Medical Center in Los Angeles of respiratory failure brought on by pulmonary fibrosis at the age of 80.  Born Marlon Brando, Jr. on 3 April 1924 in Omaha, Nebraska.  In my opinion, one of the greatest and most influential actors in the history of film.  Jack Nicholson said of Brando; "When Marlon dies, everybody moves up one."  My favortie Brando roles include: as Stanley Kowalski in Elia Kazan's adaptation of Tennessee Williams' play, A Streetcar Named Desire (1951) with Vivien Leigh, and Karl Malden; as Vito Corleone in Francis Ford Coppola's adaptation of Mario Puzo's novel, The Godfather (1972) with Al Pacino, James Caan, Robert Duvall, Diane Keaton, and Talia Shire; as Robert E. Lee Clayton in The Missouri Breaks (1976) with Nicholson; as Colonel Walter E. Kurtz in Coppola's adaptation of Joseph Conrad's novel Heart of Darkness, Apocalypse Now (1979) with Martin Sheen, Duvall, and Dennis Hopper.  Brando was married three times; Anna Kashfi (1957-1959 divorce), Movita Castaneda (1960-1962 divorce), and Tarita Teriipia (1962-1972 divorce).  Brando reportedly had an affair with Marilyn Monroe.
The Final Footprint –   Brando was cremated and his cremains were scattered in Tahiti and Death Valley, California.
Have you planned yours yet?
Follow us on twitter @RIPTFF