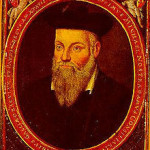 On this day in 1566, French apothecary and reputed seer,  author, translator, astrological consultant, Nostradamus died at the age of 62 in Salon-de-Provence, Provence, France.  Born Michel de Nostredame on either 14 or 21 December 1503 in Saint-Rémy-de-Provence, Provence, France.  Nostradamus  published collections of prophecies that have since become famous worldwide.  He is best known for his book Les Propheties, the first edition of which appeared in 1555.  Since the publication of this book, which has rarely been out of print since his death, Nostradamus has attracted a following that, along with much of the popular press, credits him with predicting many major world events.  Most academic sources maintain that the associations made between world events and Nostradamus's quatrains are largely the result of misinterpretations or mistranslations (sometimes deliberate) or else are so tenuous as to render them useless as evidence of any genuine predictive power.  Nevertheless, occasional commentators have successfully used a process of free interpretation and determined 'twisting' of his words to predict an apparently imminent event.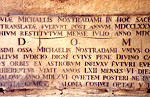 The Final Footprint – He was entombed in the local Franciscan chapel in Salon (part of it now incorporated into the restaurant La Brocherie) but re-entombed during the French Revolution in the Collégiale Saint-Laurent, where his tomb remains to this day.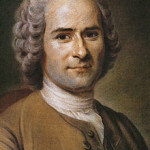 On this day in 1778, Genevan philosopher, writer, and composer Jean-Jacques Rousseau died on the estate of the marquis René Louis de Girardin at Ermenonville (28 miles northeast of Paris), from a hemorrhage, aged 66.  Born on 28 June 1712 in Geneva.   His political philosophy influenced the French Revolution as well as the overall development of modern political, sociological, and educational thought.  Rousseau's novel Émile: or, On Education is a treatise on the education of the whole person for citizenship.  His sentimental novel Julie, or the New Heloise was of importance to the development of pre-romanticism and romanticism in fiction.  Rousseau's autobiographical writings—his Confessions, which initiated the modern autobiography, and his Reveries of a Solitary Walker—exemplified the late 18th-century movement known as the Age of Sensibility, and featured an increased focus on subjectivity and introspection that later characterized modern writing.  His Discourse on the Origin of Inequality and his On the Social Contract are cornerstones in modern political and social thought.  Rousseau was a successful composer of music, who wrote seven operas as well as music in other forms, and made contributions to music as a theorist.  During the period of the French Revolution, Rousseau was the most popular of the philosophes among members of the Jacobin Club.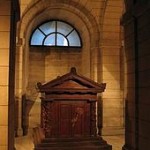 The Final Footprint – Rousseau was initially buried at Ermenonville on the Ile des Peupliers, which became a place of pilgrimage for his many admirers.  Sixteen years after his death, his remains were moved to the Panthéon in Paris in 1794, where they are located directly across from those of his contemporary, Voltaire.  His tomb, in the shape of a rustic temple, on which, in bas relief an arm reaches out, bearing the torch of liberty, evokes Rousseau's deep love of nature and of classical antiquity.  Other notable Final Footprints at the Panthéon include: Louis Braille, Pierre and Marie Curie, Alexandre Dumas, Victor Hugo, André Malraux, Voltaire and Émile Zola.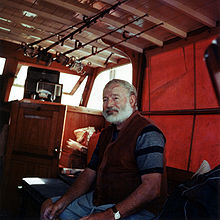 On this day in 1961, author and journalist, recipient of both the Pulitzer and Nobel Prizes, Papa, Ernest Hemingway died from a self inflicted gunshot at his home in Ketchum, Idaho at the age of 61.  Born Ernest Miller Hemingway on 21 July 1899 in Oak Park, Illinois.  Hemingway lived in Key West and Cuba before moving to Idaho.  In my opinion, he is one of the most influential American writers and one of my favorites.  His writing style is characterized by short declarative sentences and authentic characters.  Hemingway eschewed the elaborate style of 19th century writers in favor of prose that is lean and establishes meaning through dialogue and action and silences.  My favorite Hemingway novels inlcude:  The Sun Also Rises (1926), which was adapted into a film in 1957 starring Tyrone Power, Ava Gardner, Mel Ferrer and Errol Flynn; A Farewell to Arms (1929) which was adapted into film twice first in 1932 with Gary Cooper and then in 1957 with Rock Hudson; For Whom the Bell Tolls (1940) which was adapted into a film starring Cooper and Ingrid Bergman; and The Old Man and the Sea (1952).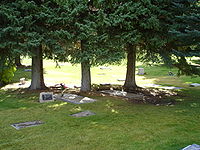 The Final Footprint – Hemingway is interred in Ketchum Cemetery in Ketchum.  His grave is marked by a full granite ledger marker.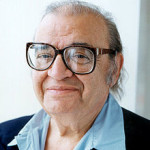 On this day in 1991, Italian American author and screenwriter, Mario Puzo died of heart failure at his home on Manor Lane in West Bay Shore, Long Island, New York.  Born Mario Gianluigi Puzo on 15 October 1920 into a poor family from Pietradefusi, Province of Avellino, Campania, Italy, living in the Hell's Kitchen neighborhood of New York.  Perhaps best known for his novels about the Mafia, including The Godfather (1969), which he later co-adapted into a film by Francis Ford Coppola, and which garnered him two Academy Awards.  The Final Footprint – He is interred next to his wife Erika in West Babylon Cemetery in West Babylon, New York.  Their graves are marked by a large upright granite marker.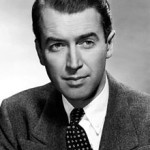 On this day in 1997, United States Army Air Forces veteran, United States Air Force Reserve veteran, film and stage actor, known for his distinctive voice and persona, five time Academy Award nominee and two time recipient, Jimmy Stewart died from a heart attack at his home in Beverly Hills at the age of 89.  Born James Maitland Stewart on 20 May 1908 in Indiana, Pennsylvania. The Final Footprint – His death came one day after the death of one-time co-star Robert Mitchum (The Big Sleep (1978)).  Stewart is interred in Forest Lawn Glendale Memorial Park Cemetery, alongside his wife, Gloria, who had died from lung cancer on 16 February 1994.  President Bill Clinton commented on Stewart's death, saying: "America lost a national treasure today.  Jimmy Stewart was a great actor, a gentleman and a patriot."  Other notable Final Footprints at Forest Lawn Glendale include; L. Frank Baum, Humphrey Bogart, Lon Chaney, Nat King Cole,  Sam Cooke, Dorothy Dandridge, Sammy Davis, Jr., Walt Disney, Errol Flynn, Clark Gable,  Jean Harlow, Michael Jackson, Carole Lombard, Casey Stengel, and Elizabeth Taylor and Spencer Tracy.
Have you planned yours yet?
Follow TFF on twitter @RIPTFF