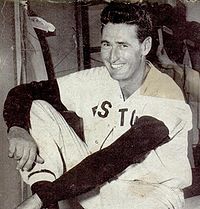 On this day in 2002, United States Navy and Marine Corp

veteran, Hall of Fame baseball player, 19x All-Star, 2x AL MVP, "The Kid", "The Splendid Splinter", "Teddy Ballgame", "The Thumper", "Mr Red Sox", "Toothpick Ted", "The Greatest Hitter Who Ever Lived", Ted Williams died of cardiac arrest at the age of 83 in Citrus Hills, Florida.  Born Teddy Samuel Williams on 30 August 1918 in San Diego, California.  His paternal ancestors were a mix of Welsh and Irish and his maternal ancestors were of Mexican and French descent.  Williams was the last player in Major League Baseball to bat over .400 in a single season (.406 in 1941).  Williams holds the highest career batting average (.344) of anyone with 500 or more home runs.  His .551 on base percentage set a record that stood for 61 years.  Throughout his career, Williams stated that he wished to be known as "The greatest hitter who ever lived".  He stated his goal was to have people point to him and remark, "There goes Ted Williams, the greatest hitter who ever lived."  He played his entire career with the Red Sox.  Williams ended his career dramatically, hitting a home run in his very last at-bat on 28 September 1960.  The Red Sox retired Williams's number 9 in 1984.  Williams was married three times; Doris Soule (1944-1954 divorce), Lee Howard (1961-1967 divorce), and Dolores Wettach (1968-1972 divorce).  Williams lived with Louise Kaufman for twenty years until her death in 1993.
The Final Footprint – Though his will stated his desire to be cremated and his ashes scattered in the Florida Keys, Williams was placed in low-temperature preservation at the Alcor Life Extension Foundation in Scottsdale, Arizona.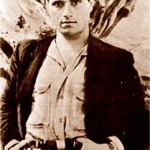 On this day in 1950, Sicilian peasant, a member of the Sicilian Independence Movement, the Sicilian Robin Hood, according to some sources a bandit who was mythologised during his life and after his death, Turiddu, Turi, Salvatore Giuliano died from a gunshot wound in Castelvetrano, Sicily at the age of 27.  Born on 16 November 1922 in Montelepre, Sicily.  Novelist Mario Puzo published The Sicilian (1984), a dramatized version of Giuliano's life.  The book was made into a film in 1987, directed by Michael Cimino and starring Christopher Lambert as Giuliano.  The Final Footprint – Giuliano is interred in Comune di Montelepre Cimitero Comunale Sicilia, Italy.
Have you planned yours yet?
Follow TFF on twitter @RIPTFF