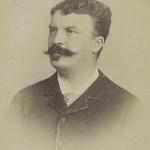 On this day in 1893, popular 19th-century French writer Guy de Maupassant died in the private asylum of Esprit Blanche at Passy, in Paris at the age of 42.  In my opinion, one of the fathers of the modern short story and one of the form's finest exponents.  A protégé of Gustave Flaubert, Maupassant's stories are characterized by their economy of style and efficient, effortless dénouements.  Many of the stories are set during the Franco-Prussian War of the 1870s and several describe the futility of war and the innocent civilians who, caught in the conflict, emerge changed.  He authored some 300 short stories, six novels, three travel books, and one volume of verse.  The story "Boule de Suif" ("Ball of Fat", 1880) is often accounted his masterpiece.  His most unsettling horror story, "Le Horla" (1887), was about madness and suicide.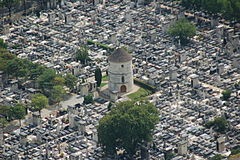 The Final Footprint – Maupassant penned his own epitaph: "I have coveted everything and taken pleasure in nothing."  He is buried in Section 26 of the Cimetière du Montparnasse, Paris.  Other notable Final Footprints at Montparnasse include; Charles Baudelaire,  Samuel Beckett, Emmanuel Chabrier, Adah Isaac Menken, Camille Saint-Saëns, Jean-Paul Sartre, Jean Seberg, and Susan Sontag.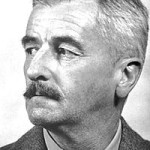 On this day in 1962, writer and Nobel Prize laureate, William Faulkner died from a myocardial infarction, aged 64, at Wright's Sanitorium in Byhalia, Mississippi.  Born William Cuthbert Falkner on 25 September 1897 in New Albany, Mississippi.  Faulkner worked in a variety of written media, including novels, short stories, a play, poetry, essays and screenplays.  He is primarily known and acclaimed for his novels and short stories, many of which are set in the fictional Yoknapatawpha County, a setting Faulkner created based on Lafayette County, where he spent most of his life, and Holly Springs/Marshall County.  In my opinion, Faulkner is one of the most important writers in both American literature generally and Southern literature specifically.  Though his work was published as early as 1919, and largely during the 1920s and 1930s, Faulkner was relatively unknown until receiving the 1949 Nobel Prize in Literature.  Two of his works, A Fable (1954) and his last novel The Reivers (1962), won the Pulitzer Prize for Fiction.  In 1998, the Modern Library ranked his 1929 novel The Sound and the Fury sixth on its list of the 100 best English-language novels of the 20th century; also on the list were As I Lay Dying (1930) and Light in August (1932).  Absalom, Absalom! (1936) is often included on similar lists.  The Final Footprint – Faulkner is buried with his family in St. Peter's Cemetery in Oxford, along with a family friend with the mysterious initials E.T.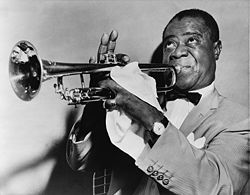 On this day in 1971, jazz trumpeter and singer, Satchmo, Pops, Louis Armstrong died of a heart attack at his home in Corona, Queens, New York City at the age of 69.  Born Louis Daniel Armstrong on 4 August 1901 in New Orleans.  Through his trumpet playing and his unique vocal style, Armstrong exerted a profound influence on jazz and popular music.  Armstrong played and sang with some of the most important instrumentalists and vocalists of the time including; Bing Crosby, Duke Ellington, Earl "Fatha" Hines, the singing brakeman Jimmie Rodgers, Bessie Smith and Ella Fitzgerald.  His many hit records inlcude;  "Stardust", "What a Wonderful World", "When The Saints Go Marching In", "Dream a Little Dream of Me", "Ain't Misbehavin", and "Hello, Dolly!", Armstrong was married several times.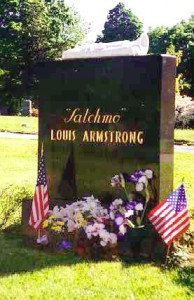 The Final Footprint – Armstrong is interred in Flushing Cemetery in Flushing, New York.  His grave is marked by a large upright black granite marker with a trumpet on top.  The house where Armstrong lived in Corona was declared a National Historic Landmark in 1977 and is now a museum.  On 4 August 2001, the centennial of Armstrong's birth, New Orleans's airport was renamed Louis Armstrong International Airport in his honor.  Another jazz legend has his final footprint at Flushing Cemetery; Dizzy Gillespie.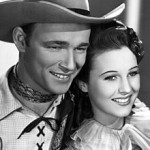 On this day in 1998, singer and cowboy actor, and one of the most heavily marketed and merchandised stars of his era, King of the Cowboys, Roy Rogers died of congestive heart failure at the age of 86, in Apple Valley, California.  He and his wife Dale Evans, his golden palomino, Trigger, and his German Shepherd dog, Bullet, were featured in more than 100 movies and The Roy Rogers Show.  The show ran on radio for nine years before moving to television from 1951 through 1957.  His productions usually featured a sidekick, often either Pat Brady (who drove a Jeep called "Nellybelle"), Andy Devine, or the crotchety George "Gabby" Hayes.  Born Leonard Franklin Slye on 5 November 1911 in Cincinnati, Ohio.  The Final Footprint – A public service was held at the Church of the Valley with a western theme, laced with frontier Army traditions. With the singing of his western songs by the Sons of the Pioneers, his body was conveyed in a glass enclosed 1898 hearse drawn by a single Clydesdale to his final resting place while accompanied by an array of people dressed in old western style attire.  He was interred at Sunset Hills Cemetery in Apple Valley, as was Dale, three years later.
Have you planned yours yet?
Follow TFF on twitter @RIPTFF