On this day in 1822, Romantic and lyric poet Percy Bysshe Shelley drowned in a sudden storm in the Golfo di Genova (Gulf of Genoa) while sailing back from Livorno, Italy to Lerici in his schooner, Don Juan, at the age of 29.  Born on 4 August 1792 in Field Place, Horsham, England.  Shelley, John Keats, and  Lord Byron were the key figures in the second generation of the Romantic movement.  Shelley married twice; Harriet Westbrook (1811-1816 her death) and Mary Wollstonecraft Godwin (who would go on to write the Gothic novel Frankenstein: or, The Modern Prometheus (1818)) (1816-1822 his death).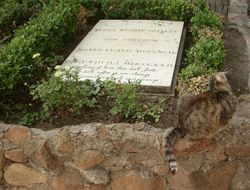 The Final Footprint – Shelley was cremated on the beach near Viareggio, Italy by his friends Lord Byron, Leigh Hunt and Edward Trelawny.  The ashes of his heart are entombed in Saint Peter's churchyard in Bournemouth, England.  The remainder of his cremains are interred in The Old Cemetery for Non Catholic Foreigners, Campo Cestio in Rome.  His grave bears the Latin inscription, Cor Cordium ("Heart of Hearts"), and, in reference to his death at sea, a few lines of "Ariel's Song" from Shakespeare's The Tempest: "Nothing of him that doth fade / But doth suffer a sea-change / Into something rich and strange."  Shelley was memorialized later at Poets' Corner in Westminster Abbey.  Another notable final footprint at Campo Cestio is the poet John Keats.  Shelley's cremation at Viareggio and the removal of his heart by Trelawny are described in Tennessee Williams' play Camino Real by a fictionalized Lord Byron.
Have you planned yours yet?
Follow TFF on twitter @RIPTFF