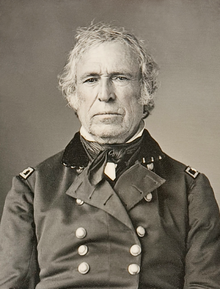 On this day in 1850, United States Army veteran, 12th President of the United States, "Old Rough and Ready", Zachary Taylor died in office, probably from gastroenteritis, in Washington D. C. at the age of 65.  Born on 24 November 1784 on a farm in Orange County, Virginia.  Taylor had a forty-year military career in the United States Army, serving in the War of 1812, the Black Hawk War, the Second Seminole War and the Mexican-American War.  He led American troops to victory in the Battle of Palo Alto and the Battle of Monterrey during the Mexican–American War.  Taylor rose to the rank of Major General.  Taylor was the last Southerner to be elected president until LBJ, 116 years later in 1964.  Taylor married once to Margaret Smith (1810-1850 his death).  Their daughter, Sarah Knox Taylor was the first wife of future President of the Confederate States of America, Jefferson Davis.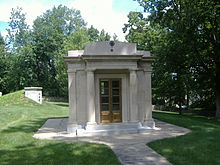 The Final Footprint – Taylor is entombed in a private mausoleum in the Zachary Taylor National Cemetery in Louisville, Kentucky.  Initially, he was entombed in the Public Vault at the Congressional Cemetery in Washington D.C.  In October 1850, Taylor was then transported to the Taylor Family plot where his parents are buried, on the old Taylor homestead estate known as Springfield.  In the 1920's, the Taylor family initiated efforts to turn the Taylor Family burial grounds into a national cemetery.
Have you planned yours yet?
Follow TFF on twitter @RIPTFF