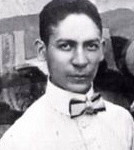 On this day in 1941, ragtime and early jazz pianist, bandleader and composer, Jelly Roll Morton died in Los Angeles County General Hospital at the age of 55 from asthma related complications.  Born Ferdinand Joseph LaMothe (possibly spelled Lemott, LaMotte or LaMenthe) on 20 September 1885 in the Faubourg Marigny neighborhood of downtown New Orleans.  Widely recognized as a pivotal figure in early jazz, Morton is perhaps most notable as jazz's first arranger, proving that a genre rooted in improvisation could retain its essential spirit and characteristics when notated.  His composition "Jelly Roll Blues" was the first published jazz composition, in 1915.  Morton is also notable for naming and popularizing the "Spanish tinge" (habanera rhythm and tresillo), and for writing such standards as "Wolverine Blues", "Black Bottom Stomp", and "I Thought I Heard Buddy Bolden Say", the latter a tribute to New Orleans personalities from the turn of the 19th century to 20th century.  The Final Footprint – Morton is interred in Calvary Cemetery in Los Angeles 4201 Whittier Blvd, Los Angeles, California, Section N, Lot 347, grave #4,in the north west quadrant of the cemetery.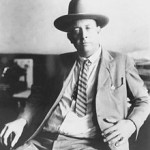 On this day in 1955,  Texas Ranger, Frank Hamer died in Austin, Texas at the age of 71.  Born Francis Augustus Hamer on 17 March 1884 in Fairview, Texas.  Known in popular culture for his involvement in tracking down and killing the criminal duo Bonnie Parker and Clyde Barrow in 1934.  In a career that spanned the last days of the Wild West well into the automobile age, Hamer acquired legendary status in the Southwest as the archetypal Texas Ranger.  He is an inductee to the Texas Ranger Hall of Fame.  Hamer fought in nearly 100 gunfights during his career as a lawmen in the Southwest and is reputed to have killed fifty-three men.  He was also wounded in action seventeen times and left for dead four times.  J. Edgar Hoover rated Hamer as being "one of the greatest law officers in American history."  Furthermore, several Texas governors regarded him as "the best, most fearless and most effective peace officer Texas has ever known."  The Final Footprint – Hamer is interred near his son in Austin Memorial Park Cemetery in Austin.  Other notable final footprints at Austin Memorial Park inlcude James Michener, Harvey Penick, Bibb Falk and Noble Doss.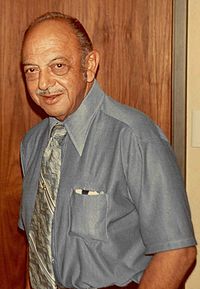 On this day in 1989, voice actor and comedian, The Man of a Thousand Voices, Mel Blanc died at Cedars-Sinai Medical Center in Los Angeles, California of heart disease and emphysema at the age of 81.  Born Melvin Jerome Blank on 30 May 1908 in San Francisco.  Blanc is best remembered for his work with Warner Bros. and Hanna-Barbera television productions as the voice of such well-known animated characters as Bugs Bunny, Daffy Duck, Porky Pig, Sylvester the Cat, Tweety Bird, Pepé Le Pew, Elmer Fudd, Foghorn Leghorn, Yosemite Sam, Wile E. Coyote, The Tasmanian Devil, Woody Woodpecker, Barney Rubble, Dino the Dinosaur, Mr. Spacely, Speed Buggy, Captain Caveman, Heathcliff, and Speedy Gonzales.  Blanc was married once to Estelle Rosenbaum (1933-1989 his death).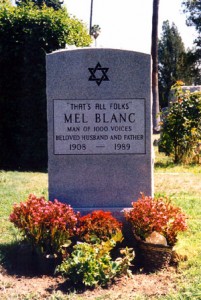 The Final Footprint – Blanc is interred in the Garden of the Exodus in Hollywood Forever Cemetery in Hollywood.  His grave is marked by a large upright individual granite marker engraved with the Star of David and the inscriptions, "THAT'S ALL FOLKS" and MAN OF A THOUSAND VOICES and the term of endearment, BELOVED HUSBAND AND FATHER.  Other notable Final Footprints at Hollywood Forever include director/producer Cecil B. DeMille, director Victor Fleming, Judy Garland, actress Joan Hackett, director John Huston, actress Hattie McDaniel's cenotaph, Jayne Mansfield's cenotaph, mobster Bugsy Siegel, actor Rudolph Valentino and actress Fay Wray.
Have you planned yours yet?
Follow TFF on twitter @RIPTFF